Shirley's story

Shirley Johnston experienced first-hand the vital support provided by Pilgrims Hospices, when her mum and husband both received the charity's care at the end of their lives.

"I could never have cared for either my husband or my mum in the way the hospice cared for them. I'm leaving a gift to the hospice to ensure that this incredible service continues to be here for future generations, for my children and grandchildren."
Verity's story

In 2017, we received a very generous gift in the will of Verity Judge, who came to Pilgrims for help coping with a life-limiting illness. She wanted to help us make the experience for visitors even better.

"Thanks to Verity's generosity and vision, and the kindness of her family working with us to realise these renovations, this room now brings a real feeling of home comforts. Every moment together matters when someone in your family is seriously ill, and the way a space looks and is organised makes a huge difference to comfort and wellbeing."

Sue Sharp, Director of Income Generation and Marketing
Hazel's story

Hazel Hayward's passion for the hospice was driven from a lifetime career of nursing. She volunteered in one of our first fundraising teams in 1991, helping raise vital funds to build a brand new hospice in the Isle of Thanet.

"I first met Hazel when I was a nurse at the hospice, she was incredibly cheerful and so happy to be playing her part in keeping the hospice running" 

Mary Annett, friend of Hazel Hayward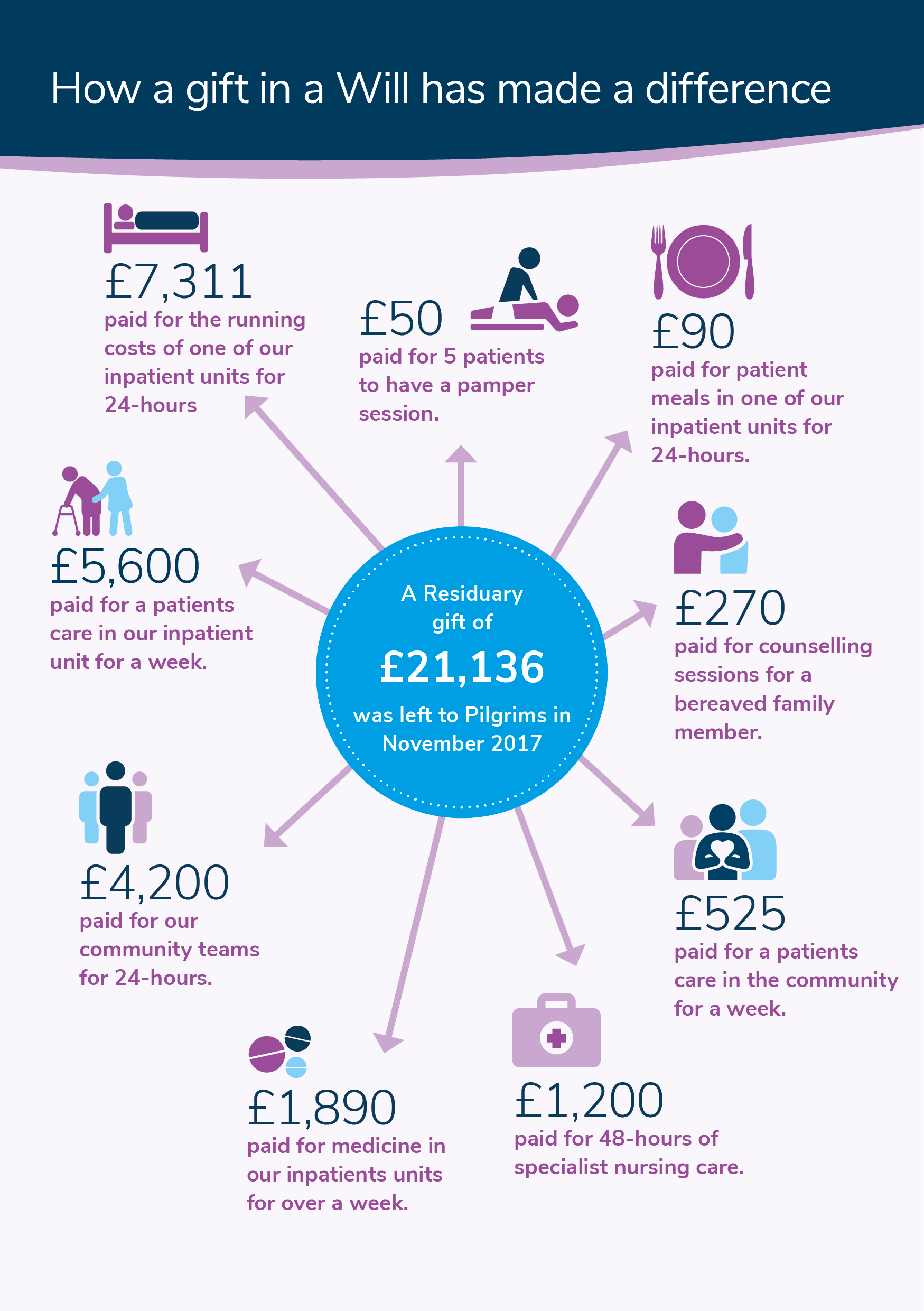 If you choose to leave a gift in your Will to Pilgrims Hospices, you will be doing something inspirational. It will cost you nothing now, but will help to secure the future of our services.
---
Your kindness will mean we can be there for the next family that needs us, not just today but always. Together, we make a difference.
The contents of this webpage are not intended to constitute as legal advice. If you are considering leaving a gift in your Will to Pilgrims Hospices, we suggest you seek your own professional advice.