Want to support our VR Appeal?
We are so close to reaching our goal now. Any donation will really make a difference.
for our Virtual Reality Appeal, but we still need
to make this technology available at each of our hospices.
---
Virtual Reality (VR) is a technology accessed through a headset and headphones which immerses someone within a 3D and 360-degree video to give them a sense of being physically present in that environment.
For example, through VR someone could experience diving in the Great Barrier Reef or relaxing on a tropical beach.
Improving Quality of Life
The latest trials of virtual reality within a healthcare setting have shown an improvement in the quality of life for termally ill patients by helping ease their anxiety, breathlessness, fatigue and even reducing pain.
The latest trials of virtual reality within a healthcare setting have shown a 56% reduction in anxiety and a 50% reduction in pain for patients, before and after their virtual reality experience!
Our hope is that a virtual reality experience will compliment, or in some cases be so effective that it could even replace mainstream treatments such as drugs. We are also interested in knowing whether combining VR with alternative therapies like massage and aromatherapy could produce even greater and more lasting benefits to patients
If we can help reduce our patients pain without increasing their medication dosages, alleviate some of their anxiety by providing an opportunity to escape from their worries and concerns, or reduce their breathlessness or fatigue by instilling a sense of calm, that would be an incredible way to improve their quality of life.

Sophie Van Walwyk, Head of Psychosocial and Wellbeing Services
Through our Immerse Your Senses Appeal we are aiming to raise enough money to introduce a VR system at each of our hospices in Ashford, Canterbury and Thanet. 
The system can be used across all of our settings, in our Therapy Centres, our in-patient units and even in people's homes, which could benefit all of our patients. 
Why is this VR system so special?
What makes this VR system particularly special is that it will include its own camera so we can record and personalise the experiences we offer to our patients, whether that's a local place they are particularly fond of, or a special occasion they're unable to attend.
In this way, someone who is used to walking their dog along a beach but hasn't been able to for a while, could once again experience this through virtual reality at Pilgrims.
Due to the simplicity of the system we would even be able to train our patients' families to record and deliver these magical moments for their loved ones.
This sort of bespoke experience would enable our patients to escape the boundaries of their illness and enjoy treasured moments once again.
What is included in a VR system?
We are looking to purchase the DR.VR+ systems from Rescape Innovation. These cost £2,500 a year, so to cover all three sites for two years we need to raise a total of £15,000.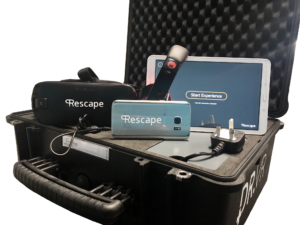 Each system includes: 
A virtual reality headset
Samsung handset
Samsung tablet
Samsung Gear 360
Carry case
50 sanitary face masks
Headphones
360 VR camera
The cost of the system also includes the technology and lisence from DR.VR+ and support and training on the system over the two year period
How can you help?
We are so close to securing this technology for our patients for two years, and as always, we wouldn't be able to do this without your amazing support! Donations of any size really will make a huge difference. 
£12 could buy 50 VR sanitary eye masks

 

£20 could buy the headphones for one VR system

 

£48 would cover the full costs of one VR system at the hospice for a week

 

£170 would buy the Samsung tablet to enable a practitioner to administer the system for our patients
To find out more about our Immerse Your Senses Appeal, please call 01227 782 062.
Want to support our VR Appeal?
Every little really does help.