Local fundraisers hit a big milestone for Pilgrims Hospices!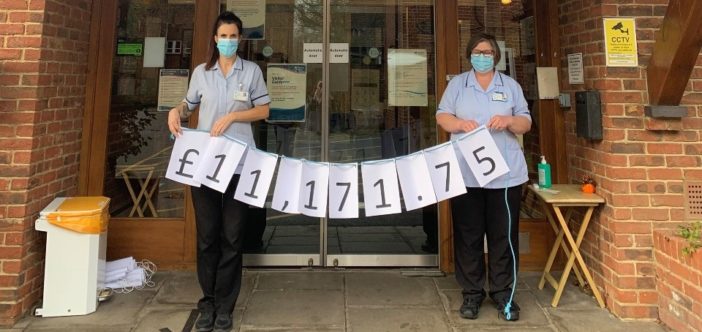 Bramling Fundraising Group have been raising vital funds for Pilgrims Hospices since 2003 and over the years have organised fun and popular events for the whole community to enjoy. At the beginning of 2020 the calendar was filled with their regular events and activities, many of which take place in The Haywain.
The  group had to quickly change focus with the news of COVID-19 and continued on by going virtual for quiz nights, creating an online community for people in lockdown. Their popular pantomime unfortunately had to cut 4 leading stars adapting to new restrictions with Snow White and the Three Dwarves and Elvis still made a glitzy, socially distanced appearance in The Haywain pub garden during the hot summer.
The group turned a challenging year into a complete triumph, reaching a special fundraising milestone. Led by Chairman Kim Tatman, the group of fantastic fundraisers have raised over £100,000 in aid of Pilgrims with a grand total of £101,129.46 since they first began.
Bramling's support and the community spirit shown every year enables Pilgrims Hospices to continue delivering our vital work.

Leila Pilgrims
Delighted with such a successful year of fundraising, Kim said: "Generous donations boosted the coffers, we were able to beat 2019's total raising £11,171.75, all of which has been donated to Pilgrims.
"We are hugely grateful to all who assisted and contributed, helping us to continue and adapt our fundraising."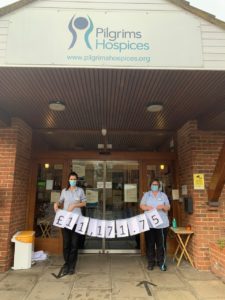 Canterbury Community Fundraising Manager, Leila Ilkhan said: "We are thrilled to bits that the Bramling Fundraising Group have reached such a milestone despite a challenging year of fundraising. Their support and the community spirit shown every year enables Pilgrims to continue delivering our vital work, supporting patients and their families here in east Kent.
"Thank you to everyone who have helped make this achievement possible."
Fundraising Groups raise vital funds by committing to regular fundraising in their local communities on behalf of Pilgrims Hospices. Turning interests into events and activities and raising vital funds each year means Pilgrims is still here; still caring for patients living with an incurable illness and their families. If the Bramling Fundraising Group has inspired you then please contact fundraising@pilgrimshospices.org to find out more about supporting Pilgrims Hospices.
---
Each year Pilgrims Hospices give care and comfort to over 2,500 people in east Kent who are coming to terms with an illness that sadly cannot be cured.  The charity support patients to live life as well as possible until the very end, free from pain and distress.