We know that having the support you need can help you stay independent and help you manage your symptoms. It can make a difference in enabling you, and those close to you, to live well from day to day.
That's why we offer a range of services tailored to you: from our Wellbeing and Social Programme held in our Therapy Centres to our patient-centred support package that's offered in the community.
All of our services aim to give you the right support when you need it most and to help with the things that matter most to you.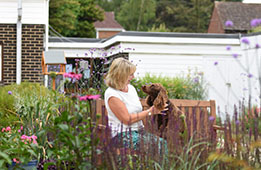 Pilgrims Wellbeing and Social Programme
Pilgrims Wellbeing and Social Programme is free if you live in east Kent and you have been diagnosed with an incurable illness. It aims to enhance your wellbeing – in mind and body. There are therapeutic, creative, social and educational programmes plus a range of services for carers.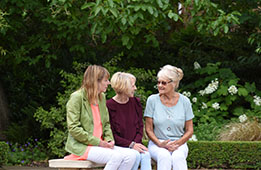 Personalised support – available in the community
Pilgrims nurses run clinics in the community and in the hospice where people with an incurable illness can come early on in their illness to learn more about what the hospice has to offer.
The team talks to each person about how their illness is affecting them and their family, then looks at what support Pilgrims can provide.