Let's open up the conversation in a relaxed, informal way.
Events
Pilgrims organises a wide variety of events to encourage our local community in east Kent to come together and talk about death, life, bereavement and end-of-life care – subjects that we often avoid in our daily lives.
Find out more about what we do below.
Death Cafes
Death Cafes provide a safe space to discuss death and dying without objectives or an agenda.
"It was fascinating. I loved the mix of people, all ages and backgrounds and careers. Death is part of our lives; I think it's time we talked about it."

Karen Bartholomew
Local playwright who attended her first Death Cafe at Pilgrims in 2017
Canterbury Festival 2020
As part of the Canterbury Festival's HeArt of the City art trail, we displayed a selection of artwork created by local school children in our bookshop window. Each piece expressed  'What Makes You Unique?'
Launched at the end of 2019, the What Makes You Unique? exhibition was to be displayed at The Beaney in May 2020, but has now been rescheduled for 3rd July to the 1st August 2021.
A preview of some of the amazing art submitted was on view at Pilgrims Hospices Bookshop, 10 Burgate, Canterbury from 17-31 October 2020.
Dying Matters Awareness Week 2020
Play and Pause - Your favourite funeral music and poetry
During Dying Matters Awareness Week (11-17 May 2020), we asked you to share the music and poetry you would like at your funeral – inspiring, joyful, funny or poignant.
The theme for 2020, #DyingToBeHeard, focused on how to help by listening.
We created a YouTube playlist and hope you will keep adding it; we will leave it open for anyone to contribute and would love you to get involved. Full details are below.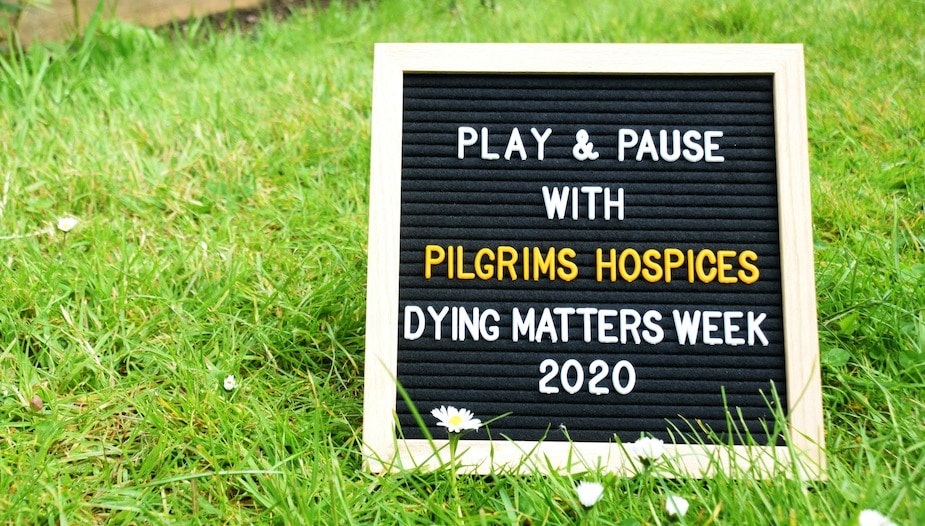 How to share the songs and poems you would like at your funeral
1. Log into YouTube; if you don't have an account, you'll need to create one.
If you'd prefer not to create a YouTube account, email education@pilgrimshospices.org with your song or poem choice(s) and we can add them to the playlist for you.
2. Click here to access our YouTube playlist. Then, click the blue 'Continue' button near the top.
3. Search for a song or poem you'd like to add, then on the video itself click the 'Save' icon underneath the video and tick the box next to the 'Play and Pause' playlist title.
That's it, done!
We look forward to hearing the songs and poems that are meaningful to you.
Blog: After Wards
There's much more to death than we think; what if it isn't just an ending, but an event we can plan for?
Thinking beyond the four walls of hospices and hospitals, we have the chance to approach it with confidence and plan a good death. After Wards is a collection of insights and ideas from people who can help us all to re-imagine this essential part of life, and to live well until we die.