Playing Pilgrims Hospices Lottery is affordable and easy, and there are always more than 100 cash prizes to be won. 
It costs just £1 per week to play. Each week, your unique Lottery number will be entered into the draw to give you a great chance of winning our weekly or rollover prizes.
All Lottery membership numbers in credit on the weekly draw date have a chance of winning our rollover prize. This accumulates by £500 each week, up to a maximum of £20,000.
Winners don't need to claim. Your cheque will be posted out to you immediately – it's simple!
Join now or renew your membership
Debit / Credit card Direct Debit
Guaranteed weekly prizes
First prize of £2,000
Five prizes of £50
25 prizes of £25
50 prizes of £10
25 prizes of £5.
How can I join?
The easiest way to join our Lottery is by signing up online using direct debit or a debit / credit card.
We also have official collectors in most areas who collect regularly. To check availability in your area please call 01227 379 741.
When you join our Lottery you receive a computer-generated, unique membership number. This is entered into the draw each week that payment has been received for.
Each Friday the winning numbers are selected electronically from all paid up numbers, and our 100+ weekly guaranteed prizes are allocated.
Renew your membership
You can renew your existing Lottery membership online using a debit / credit card or via direct debit.
Please note: If renewing via direct debit there will be a slight delay so your membership will not be renewed immediately.
---
You must be 16 years or over to play. Please play sensibly.
Read our terms and conditions for more information
Pilgrims Hospices Lottery
raised £1.1 million in 2017/18
.................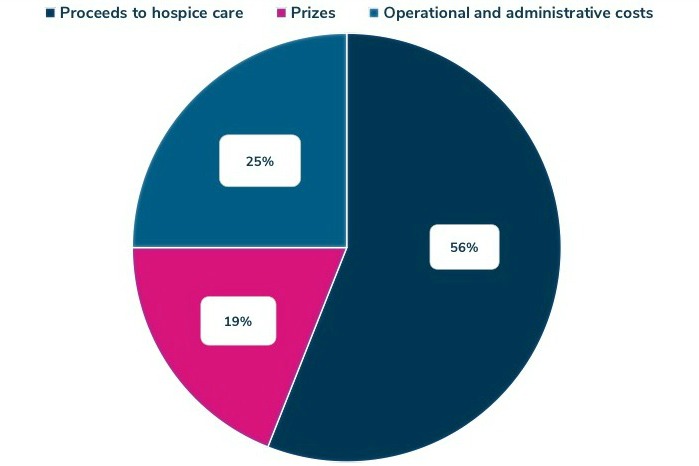 Join Pilgrims Hospices Lottery today to be in with the chance of winning fantastic cash prizes. At the same time, it's a great way to support Pilgrims. The proceeds from each Lottery draw help our nurses provide vital end of life care and support to local people coping with incurable illness, and their families, so they can live well in every moment.
Together, we make a difference.
Thank you so much for your support.