Welcome to the Virtual Pilgrims Way Challenge Hall of Fame. Here, the achievements of everyone who has completed the full distance of the hike virtual version of the Pilgrims Way Challenge in 2020 are recorded and celebrated.
Due to the COVID-19 pandemic, we have been unable to hold the real Pilgrims Way Challenge event, which would normally have raised around £90,000 for Pilgrims Hospices. However, by taking part in this virtual hike, and other events like it, you're helping us to bridge this loss of funds by going the extra mile to support our specialist end-of-life care services when we need it most.
So far, Pilgrims Way Challengers have still helped to raise over
£
for local hospice care in 2020. Enough to pay for more than 640 hours of specialist nursing care.
While we can't wait to welcome you all for the real event in 2021, we wish to thank you so much for being a part of our wonderful community of supporters making a difference to the lives of thousands of people living with a life-limiting illness through their love of walking.
Pilgrims nurses, doctors and support staff are #StillHereStillCaring for some of the most vulnerable people in our society during this extraordinary time; making them comfortable, alleviating pain and enabling them to make the most of the time they have. Your support ensures we can continue providing skilled and compassionate care to all those who need us.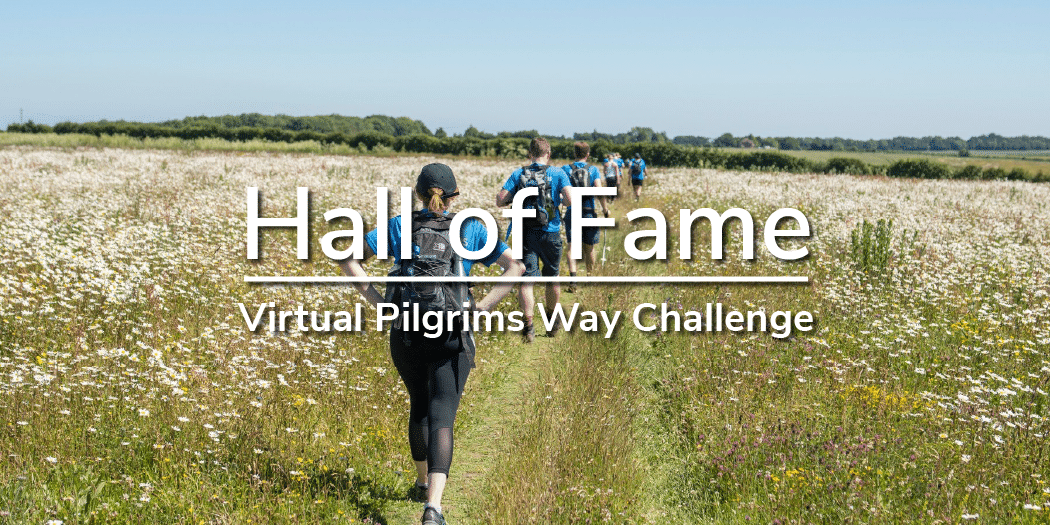 Virtual Pilgrims Way Challenge Hall of Fame (5th - 6th September 2020)
The first event in the virtual hike series saw walkers take on an 88-mile hike along the entire length of the Hadrian's Wall Path. The names of everyone who completed the virtual journey within the month are listed in the Hadrian's Wall Path Hall of Fame below.
Number of walkers who completed the journey
Distance hiked for hospice care 5-6 September 2020
kms
| Surname | First name | Distance |
| --- | --- | --- |
| Bradford | Shane | 35km Finisher |
| Burr | Tracey | 25km Finisher |
| Cornish | Emily | 25km Finisher |
| Drury-Larkin | Paula | 55km Finisher |
| Edwards | Gary | 55km Finisher |
| Fielder | Layla | 25km Finisher |
| Gamble | Dan | 55km Finisher |
| Gibbs | David | 55km Finisher |
| Gurr | Emily | 25km Finisher |
| Gurr | Margaret | 25km Finisher |
| Gurr | Molly | 25km Finisher |
| Harrison | Claire | 25km Finisher |
| Harrison | Robert | 25km Finisher |
| Heath | Sally | 25km Finisher |
| Hemmings | Naomi | 55km Finisher |
| Hogben | Elisia | 25km Finisher |
| Hogben | Jo | 25km Finisher |
| Kerry | Mandy | 25km Finisher |
| Lane | Christopher | 55km Finisher |
| Montandon | Stefan | 35km Finisher |
| Parker | Natasha | 35km Finisher |
| Pollard | Dan | 55km Finisher |
| Saxby | Colin | 55km Finisher |
| Simpson | David | 25km Finisher |
| Simpson | Helen | 25km Finisher |
| Southby | Paul | 55km Finisher |
| Smith | Catherine | 25km Finisher |
| Stokes | Richard | 55km Finisher |
| Summersby | Nigel | 55km Finisher |
| Troman | Anne | 25km Finisher |
| Troman | Martin | 25km Finisher |
| Tunak | Kevin | 55km Finisher |
| Wyels | Eleanor | 55km Finisher |
| Wyels | Mathew | 55km Finisher |