Pilgrims Way Challenge 2020 (Cancelled)
Saturday 5 September 2020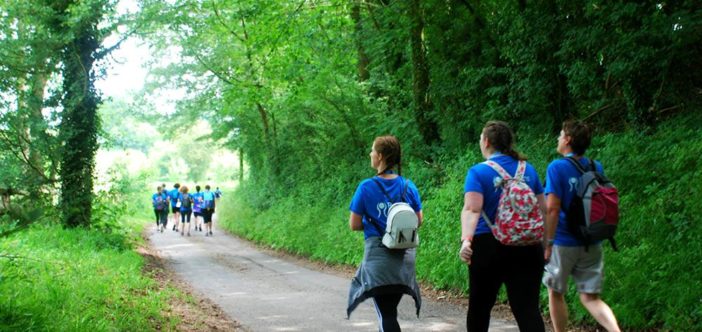 Pilgrims Way Challenge physical event cancelled until 19 June 2021, but walkers can still earn their medal on 5-6 September.
Thank you to everyone who completed the virtual version of the Pilgrims Way Challenge on 5th – 6th September 2020. You're all amazing and deservedly, your names have been added into the hiker's Hall of Fame.
View the Virtual Pilgrims Way Challenge Hall of Fame
Official update 17/08/2020

Since announcing our revised event plans on 30th July, we have been further consulting with our venues, reviewing the route, monitoring other major event organisers and awaiting information from government about the return of large-scale events.


Following our communication plan, to inform participants of the final decision on 17th August, It is with regret that, despite our best efforts to mitigate the risks of virus transmission, and the potential impact on local public services, we have sadly made the decision to cancel the Pilgrims Way Challenge for the postponed date of Saturday 5th September 2020.

A variety of factors have played a part in reaching this decision. Despite the revisions made to the event plan to significantly reduced the risk of virus transmission, there were wider factors to consider. The Pilgrims Way Challenge would have had an impact on local transport services. Sections of the route, including features such as stiles and narrow paths, were reviewed and deemed unfeasible to enable social distancing to be maintained, whilst also being used by members of the public. Other national event organisers, with resources much greater than our own, have recently announced the cancellation of major sporting charity events across the country. And, perhaps most significantly, with still no official announcement or guidance from government, regarding the safe return of large-scale events, we feel it is the only responsible course of action to cancel the physical Pilgrims Way Challenge event and protect the health of everyone involved.

Though we understand that this decision may come as a disappointment to many, keen to walk or run as part of an event and with other supporters after so many months in lockdown, we hope that you will appreciate the position that we, and many other charities are in. Our number one priority is the safety and enjoyment of everyone who attends a Pilgrims event and, while we feel that our revised plans significantly mitigated the risks of virus transmission, it would be inappropriate to go ahead with the event without the endorsement from government.

A FREE virtual version of the Pilgrims Way Challenge will take place on 5th-6th September for existing participants, hosted via the Pilgrims Event App in appreciation of their patience, understanding and ongoing support of Pilgrims Hospices. Full details of the Virtual Pilgrims Way Challenge will be released to participants later this week.

Existing participants have been made aware of the cancellation and the options available to them.

With Best wishes,

Sue Sharp, Director of Income Generation and Marketing, and The Pilgrims Hospices  Fundraising Team
For further details on entry fees and deferral of entry please read our FAQs.
---
Entry
This event has been cancelled and entry is no longer possible.
The hike will go on… virtually!
Existing participants will still be able to put all that Summer training to good use and earn their finisher's medal this year. As a special thank you for their enormous patience and understanding, and ongoing support of Pilgrims Hospices, we will be hosting a virtual version of the Pilgrims Way Challenge over the weekend that the postponed event was scheduled to take place; 5th-6th September 2020.
This will be FREE for all participants who were signed up for this year's Pilgrims Way Challenge. Whether they have decided to defer your entry to 2021, requested a refund or donated their entry fee, all are welcome!
You will be invited to the Virtual Pilgrims Way Challenge via email later this week and a link to the event posted on this webpage. Utilising the award-winning Pilgrims Event App, you will be able to complete the Virtual Pilgrims Way Challenge from, or near to, your own home, over the weekend of 5th-6th September. You'll see yourself move along the actual 25k, 35k or 55k Pilgrims Way Challenge route via the interactive map as if you were doing the real event and can complete your chosen distance in as many walks as you wish over the two days.  You can continue to raise sponsorship or even begin fundraising on this 'one-off' virtual version of the event. Keep an eye on your inbox and this webpage for full details in the coming days.
We would discourage taking part in the Virtual Pilgrims Way Challenge to physically walk the real route as it involves narrow sections that will not allow for social distancing and there will be no event support, such as medics or signage, available. Instead, we encourage you to complete your distance from, or near to, your own home virtually!
Virtual Pilgrims Way Challenge interactive map
Get the award-winning Pilgrims Hospices Event App
We're proud to offer the bespoke Pilgrims Hospices Event App, available for iOS and Android devices). It's free to download from the App Store and Google Play and is the perfect companion to enhance your Pilgrims event experience. Keep your training on track by recording your training activities and liking and commenting on your teammates. Receive up to date event information, view detailed route maps so you can see if you go off route, and link your JustGiving page to see how your fundraising is going, all in one place.
Resources