If the pandemic has highlighted anything, it's that no-one else can do what we do. People around us need us. Whether that's patients, families and friends of loved ones, or other healthcare professionals from across east Kent. 
We continue to face challenging times, and your support is more valuable than ever in ensuring we are Still here, Still caring for years to come.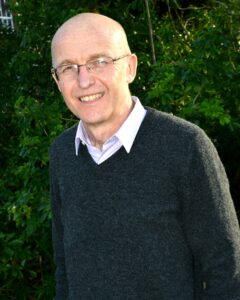 "Over the last year I've witnessed first-hand the devastating impact that COVID-19 has had on local people and their families, and the incredible strain placed on our healthcare colleagues in the hospital and the community as well as here in the hospice. 

When the pandemic first hit, we took our end-of-life expertise into the east Kent hospitals, to support our colleagues there who were faced with far more people dying than they would normally experience. Our guidance meant that those who could not survive COVID-19 were better supported and their comfort maintained; and our expertise has been vital to those called on throughout this crisis.

As an organisation we've had to flex and change - but we've done it, through personal and professional heartbreak, we've all kept going. I've never felt prouder to be part of this incredible charity.

Now, a year on from when this crisis began, we have hope. The vaccine is being rapidly rolled out and as long as we remain careful we can follow the roadmap out of lockdown. We've managed to keep our vital hospice services going, and now we can look to rebuild towards a strong and sustainable future. The months ahead are going to be tough, but I'm certain with your help we will still be here, still caring for our local community now and in the future."

Dr Andrew Thorns, Medical Director at Pilgrims Hospices
Your support today could ensure we're Still here, Still caring

Pilgrims is still here for our local community.
Thank you for being here for us.
Thank you so much for your support of Pilgrims Hospices. We're so grateful that people like you are part of our community, helping us in so many different ways. We couldn't provide our expert, end-of-life care without you.
It has been an unexpectedly difficult time for us. Over the last year, we've had to ask most of our incredible volunteers to stay safely at home, close our shops, cancel or postpone many of our fundraising activities, and stop seeing our Lottery members who we collect subscriptions from. Our vital work has not stopped, but we still need your help to continue providing compassionate care and support at our three hospices and in the community. We have made some key changes to ensure our patients, their families and our staff remain safe. You can keep up to date with all our latest hospice news by following us on Facebook and Twitter.
These are really challenging times for everyone, but so many of you have stepped forward to support Pilgrims.
Thank you so much to everyone who has already donated to the Still Here, Still Caring appeal. Our local community has demonstrated just what an incredible force you are, in nearly a year you have helped us raise over £217,600! This is enough to ensure funding for one of our in-patient units for a whole month!
If you would like to be part of ensuring that we are Still here, Still caring now and in the future, you can do it right now by clicking the button below. Thank you!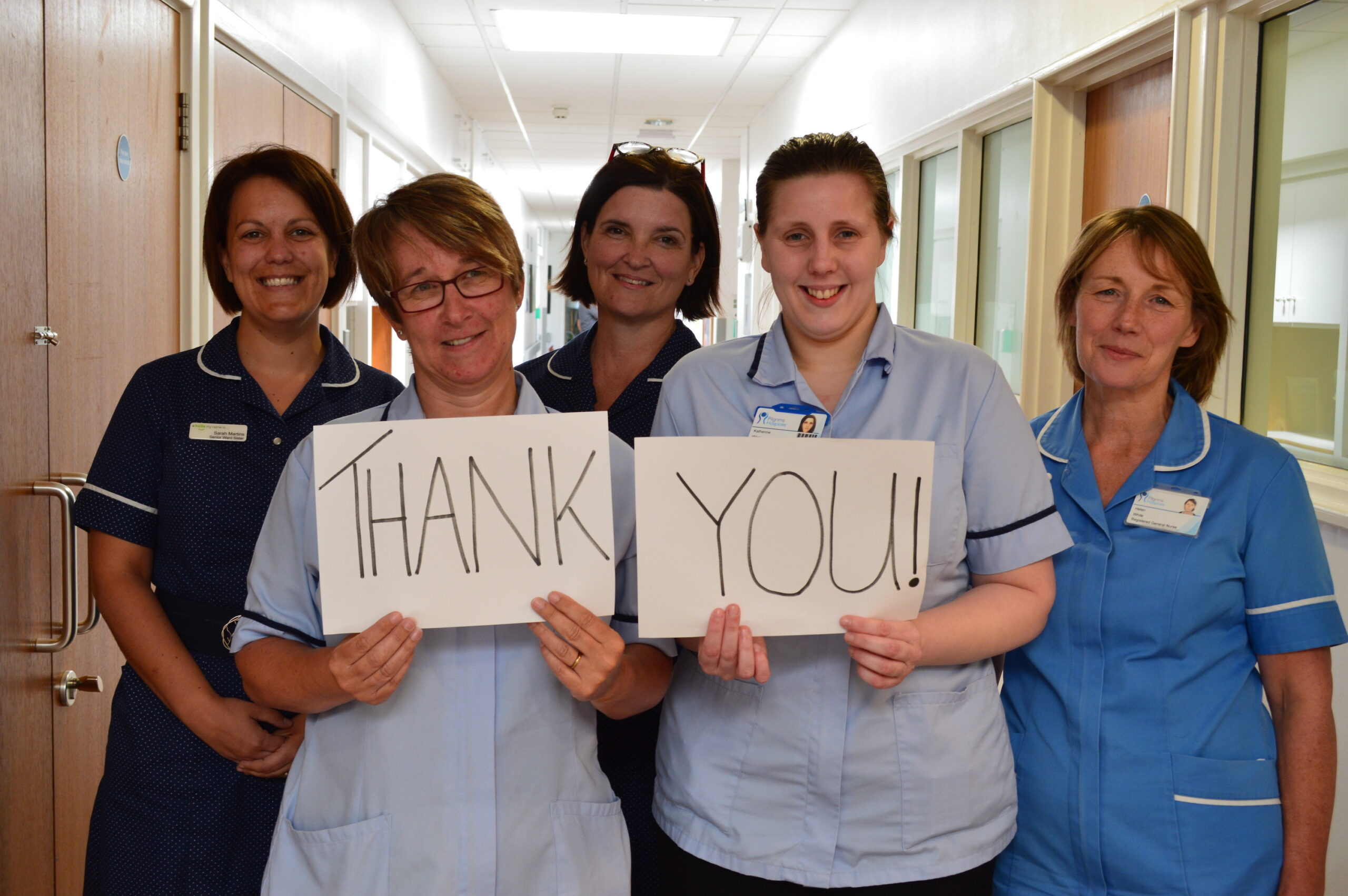 We'd like to say a huge thanks also to all our volunteers and staff who have helped us keep going. It's never been more needed.
We hope you and your loved ones are well – or if you've been ill, you are on the road to recovery. Together, let's make a difference.
Show your support
Your messages of support mean so much to everyone here at Pilgrims Hospices – nurses, doctors, and everyone else who is working to support our patients and families during these difficult times.
Whether it's a few words or a picture, they all bring a smile to our faces.
Send us yours and we'll share them.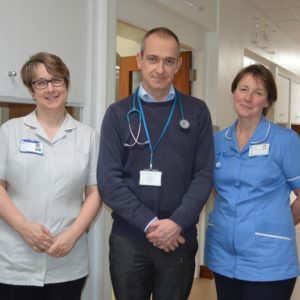 At the hospices

Our in-patient units at Ashford, Canterbury and Thanet are still operating normally.

To protect our patients and staff, we are taking extra precautions including the use of personal protective equipment (PPE) and preparing special isolation areas in case any of our patients show symptoms of coronavirus.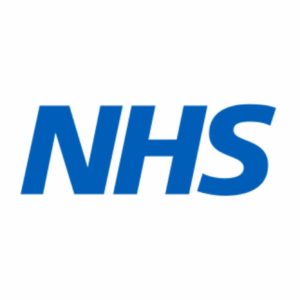 Working together with the NHS

To support the NHS, in these unprecedented times we have made additional beds available to help relieve the pressure on our local hospitals.

To support all Healthcare Professionals across east Kent we have also set up a 7 day advice and guidance line to share our end of life expertise. In addition we are working alongside the NHS to offer our bereavement support services to a wider number of families.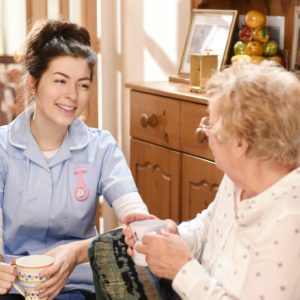 In the community

Our Community Teams are still offering practical and emotional support to people at home, now primarily by phone or video.

Where home visits are needed, we are taking every precaution to limit infection – using PPE, for example.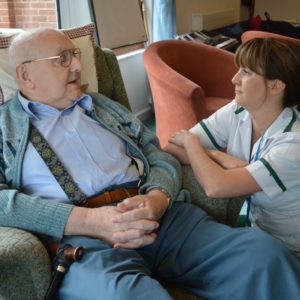 For friends and family

We know how much visits from loved ones mean to our patients on the wards, but for the safety of everyone and in line with guidance from the NHS we have asked carers, family and friends to nominate one visitor per patient.
In our Therapy Centres

Although we have had to close these facilities temporarily, we are still taking referrals and our staff are finding new ways to support patients and their families remotely. We are exploring video as a way of ensuring our patients are able to stay as active and mobile as possible during self-isolation by taking part in online exercise classes suited to an indoor environment.

You can watch and take part on our YouTube channel.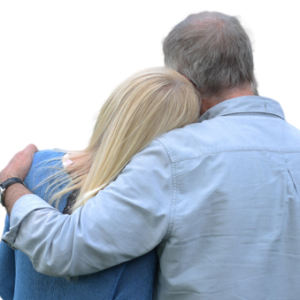 Our bereavement support services

We are still here to help support families who are coping with the loss of a loved one.

Although we're not able to offer face-to-face support at present, we are offering support by telephone in the meantime via our Stepping Stones Bereavement Support Service.

As experts in supporting people through bereavement, Pilgrims has recently developed our Stepping Stones programme. We now offer our bereavement services not just to the families and friends of Pilgrims patients, but to anyone in our local community who may be experiencing loss.

Now more than ever, people across east Kent may be faced with a bereavement, possibly one they weren't expecting, and at a time when support from family and friends is difficult to access because of lockdown.

We are here for you. Our Stepping Stones programme has been adapted to provide telephone bereavement support calls for anyone struggling to cope with the loss of a loved one. Don't be alone in your grief; we can support you. Find out more here.
Fund our care
Without our wonderful community of supporters, we wouldn't be here. Help us to continue providing our much-needed, expert end-of-life care, and together, we will make the difference.
Thank you so much for your support
Every generous donation from our amazing community of supporters helps to make sure we can be there for the next family who needs us.
If you or someone you love has been diagnosed with a life limiting illness, find out about the full range of services Pilgrims can offer.