Festive Fundraising for Pilgrims Hospices
It's the most wonderful time of the year!
Christmas is a time to enjoy the warmth and love of those closest to us. A time of giving, and a time to make lasting memories.
Pilgrims nurses will be caring for hundreds of people across east Kent who are living with an incurable illness this Christmas. Our specialist end-of-life care will provide comfort, aid independence and enable families to make the most of the time they have together.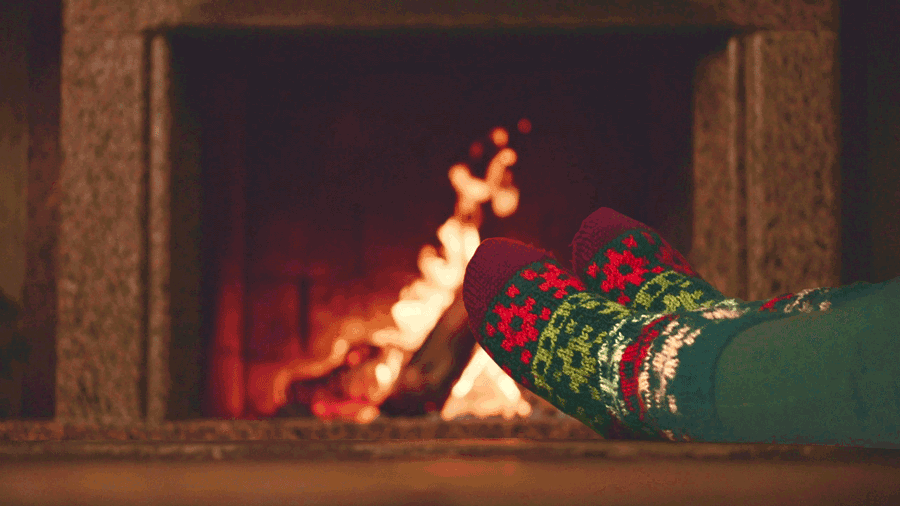 There's plenty to get you and your family into the holiday spirit with Pilgrims Hospices range of festive fundraising activities, including:
Santas on the Run! Tri-Series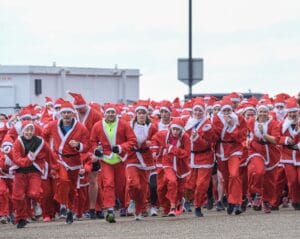 'Tis the season for the jolliest jog of the year and this year, Santa Claus and his friends are coming to a town near you.
Ho, ho ho, clear your diary this December as we've got just the thing to get the whole family in the festive spirit whilst raising vital funds for local hospice care this Christmas.
We're inviting you to join your local 3k or 5k fun run in Herne Bay, Folkestone or Margate, or challenge yourself to all three and join our our tri-series to celebrate the countdown to Christmas.
Santas on the Run! Tri-Series is an event for everyone so join us for the magic of Christmas.
Letters from Santa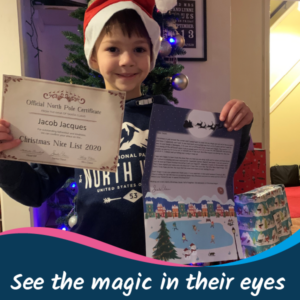 See the magic in their eyes this Christmas by requesting a personalised letter for a loved one, written by Santa Claus himself!
Each letter is personalised by our team of elves, based on the information you provide, and comes printed on one of five beautifully illustrated Christmas-themed papers.
Inside the envelope postmarked from the North Pole, you'll find not only Santa's letter, but also a personalised Certificate of Achievement showing that your loved one is officially on Santa's Nice List.
Christmas e-cards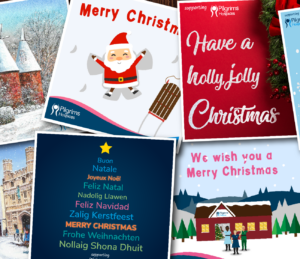 Never miss the Christmas post again with Pilgrims Hospices convenient, sustainable new range of Christmas e-cards.
Spreading Christmas cheer couldn't be simpler. Just pick your favourite design, add your message, donate what you would have spent on cards and stamps, and send. Easy!
There's a whole selection of designs to choose from (both static and animated) and when you choose a Pilgrims Hospices e-card, you're not only brightening someone's Christmas but also supporting the care of families across east Kent who are facing this Christmas with an incurable illness.
They are a great alternative to whiz through your list of recipients in a jiffy, leaving you to put your feet up in front of the fireplace.
Online Christmas Auction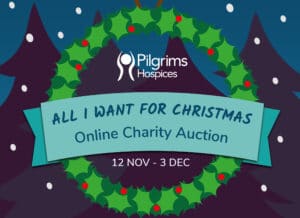 Get Christmas all wrapped up by finding the perfect gift in just a few clicks with our brand new online Christmas auction!
There's a huge selection of gifts and experiences on offer including overnight stays, days out, perfume, hampers, vouchers, games, ladies accessories, and many more!
The auction runs for three weeks, starting on Friday 12th November and bidding is live until midnight on Friday 3rd December.
It's the perfect opportunity to buy Christmas presents for loved ones or treat yourself to something special knowing that every pound raised will be helping Pilgrims Hospices care for patients, and their families, across east Kent who are living with an incurable illness.
Find out more about the Pilgrims Hospices Online Christmas Auction
Christmas Tree Recycling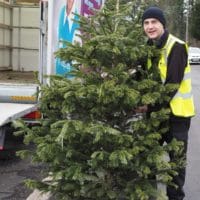 Once the big day is over, let us take the hassle out of recycling your Christmas tree.
Pilgrims Hospices Tree Recycling fundraising campaign offers Christmas tree collections from homes across the Ashford Borough Council area.
New for this year, we've branched out to bring our Tree Recycling scheme to the Canterbury City Council area and specific areas of Thanet District Council too!
Simply register a real Christmas tree for collection and make a donation to Pilgrims Hospices in appreciation of the service.
There's no need to mess up your car with pine needles, Pilgrims volunteers will do all the hard work for you and, in turn, you will be helping to support the vital end-of-life care of local people through your donation.
Pilgrims Hospices Christmas Card Shop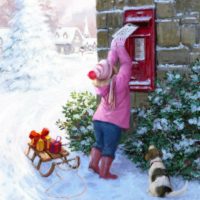 There's nothing like receiving a Christmas card through the post and knowing that someone is thinking about you.
Fans of sending traditional Christmas cards through the post can find our full range of beautifully illustrated designs in our online Christmas card shop; including local scenes of east Kent.
With every pack purchased, you'll be supporting the care of more than 2,500 people, and their families, each year who are living with an incurable illness, thank you.
Trees of Love
Trees of Love, east Kent's largest remembrance, will return this year to our hospice grounds with carols and warm mince pies, and various indoor venues across east Kent, throughout December.
You can also take part by receiving a beautiful dove to dedicate and hang on your Christmas tree, or in a special place at home.
Then, on Saturday 4th December 2021, we will release a Trees of Love 2021 remembrance service for you to watch on the Pilgrims Hospices YouTube channel and website.
To take part click here to complete the online donation form, or contact Supporter Relations on 01227 782062.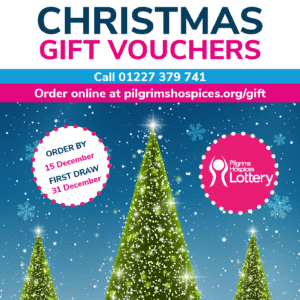 The Gift of Giving
Give your loved ones the chance to win up to £20,000!
Pilgrims Hospices Lottery gift vouchers make unique presents for friends and family. It could be the best gift you ever buy them, with an amazing 106 guaranteed cash prizes  given weekly to our Lottery members.
Each gift voucher comes with a card; just tell us your details and the name and address of the gift voucher recipient and we'll do the rest.