Donate an Hour of Pay
Tuesday 24 October 2023 - Sunday 31 December 2023
Make your last hour of the working year go further for local hospice care.
This Christmas, before you set your out of office for the festive break, we are asking you to donate an hour of pay to make a big difference in the lives of those under our care.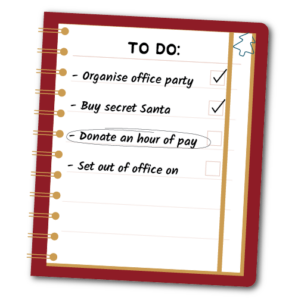 By donating your last hour of pay, you will be helping patients and their families make the most of their time together this Christmas, creating special memories they can cherish forever.
Whether this is in the one of our inpatient units or in the community, you will be part of the reason we are here, caring for those who need us, now and in the future.
Get started
Set your business buzzing about the Donate an Hour of Pay campaign by pledging the support of your company today, and receive a FREE digital fundraising toolkit to encourage colleagues to pledge their support too!
Register your business/organisation here
The digital fundraising toolkit includes:
The Donate an Hour of Pay film: Let your colleagues see how their donations will make a big difference to Pilgrims this Christmas
Top tips to make the most out of your business's fundraising
Digital graphics for your social media channels
Campaign Poster for internal promotion
Email signature line badge
Plus information on how to donate, including a link to our handy online calculator that makes it easy for colleagues to work out their hourly wage.
Then, simply get donating!
Hour of Pay Salary Calculator
Make your gift go further
As a company
Could your company pledge to match the donations of your employees?
We'll record the company name of every donation received so that we can share your business's grand total with you in the New Year.
Whether it's £50 or £500, you can make the contributions of your colleagues go further for hospice care by pledging to match the total amount given by your workforce.
As an individual
Gift aid: Make your personal donation go further by remembering to add Gift Aid it. For every £1 you donate, Pilgrims will be able to claim an extra 25p from the government through the Gift Aid scheme!
When you think that a £20 donation could turn into £25 with Gift Aid, it's easy to see how much Gift Aid can make a difference.
How your donation helps Pilgrims deliver care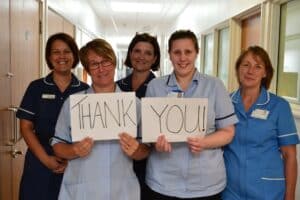 £10 could pay for a patient's meals for the day in one of our inpatient units so they can enjoy all the Christmas trimmings with their loved ones.
£15 could provide a complementary therapy session for a patient, relieving their anxiety.
£20 could provide a physiotherapy session to help a patient stay active and make the most of their time with friends and family this Christmas.
£25 could provide an hour of specialist nursing care at one of our inpatient units where our team will be creating a home from home with festive decorations and carols.
£30 could enable our Community Team to hold a consultation with a patient in their own home.
£45 could pay for one-on-one counselling for someone struggling to cope with the loss of a loved one this festive season.