Thank you to all those that joined us for Trees of Love 2021. You can still watch this year's filmed Trees of Love service by clicking below.
Here are some of the loved ones you remembered for Trees of Love...
Hundreds came together in December for Trees of Love
Trees of Love, east Kent's largest remembrance, returned this year to our hospice grounds, and various indoor venues across east Kent, throughout December.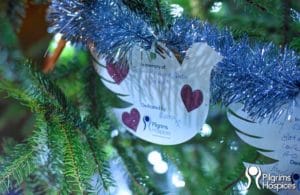 The festive season can be the hardest for those of us who have lost loved ones, so those taking part were given the opportunity to join together with others across east Kent, at the remembrance services with carols.
If you would like to dedicate a beautiful dove to your loved one, you can do so by contacting our Supporter Relations Team on 01227 782 062 or via email, at supporter.relations@pilgrimshospices.org.
£30 could pay for two complimentary therapy sessions for a patient, to give them a distraction from their illness,
and the opportunity to relax over the festive season.
£45 could help a Pilgrims counsellor provide a one-to-one      session with someone struggling to cope with their
first Christmas without their loved one.
£100

could allow our community nurses to continue making  home visits to our patients that wish to spend
their Christmas at home with family and friends.
Thank you so much for your support
Every generous donation from our amazing community of supporters helps to make sure we can be there for the next family who needs us.
If you or someone you love has been diagnosed with a life limiting illness, find out about the full range of services Pilgrims can offer.
---