Sunflower memories grow vital donations for hospice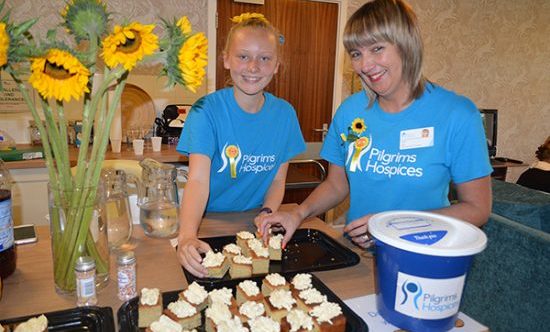 Hundreds came together for a colourful event this weekend celebrating cherished memories of their loved ones.
More than 800 people attended Pilgrims Hospices Sunflower Memory gatherings, to see beautiful sunflower plaque displays in the charity's Canterbury, Ashford and Margate hospice grounds.
This was Pilgrims fourth annual Sunflower appeal and the biggest yet, so far raising an amazing £27,000 to support people living with an incurable illness in east Kent, with donations continuing to come in.
Sara Scriven, Pilgrims Hospices Individual Giving Manger, said: "The sunflower events are so uplifting. There was a lovely atmosphere of warmth and kindness as visitors took comfort in sharing their stories of loved ones and speaking with Pilgrims team. As well as the sunflower memory marker displays, our gardens were decked with beautiful sunflower seedlings, grown by Pilgrims gardeners and volunteers and visitors enjoyed gentle music and refreshments in the beautiful hospice grounds."
Each year Pilgrims supports hundreds of local people coping with a life limiting illness and their families. The charity offers a range of services: from end of life care given on its wards, to its new wellbeing and social programme supporting people after they are diagnosed to live well and stay independent.
The summer appeal plays an extremely important role in Pilgrims campaign to support as many people as possible.
She added: "Each year this special appeal grows from strength to strength. We would like to thank everyone who has made our remembrance day so very special. This is such an incredible amount of money to raise for hospice care. Every £100 could pay for therapy sessions for a child coping with the loss of a loved one, so as you can see it will help to make a real difference to families needing our support."
The sunflower memory markers will remain in the grounds of the three Pilgrims Hospices in Ashford, Canterbury and Thanet over the coming two weeks with visitors welcome to view them.
If you wish to take part, Pilgrims will continue to accept contributions until mid August click Sunflower Memories, or call Pilgrims team on 01227 782062 or by visiting your local Pilgrims Hospice reception.
If you or someone you love has been diagnosed with a life limiting illness, find out about Pilgrims Hospices full range of services.
Our thanks go to:
The Westerleigh Group for their continued annual sponsorship of the appeal, Westgate Garden Centre for donating seeds and compost. Our amazing volunteers for growing 300 sunflowers from seed.
Best in Tents for lending the use of garden furniture at our Thanet and Canterbury events. Jonny Hepbir, Thomas Abrahams and Rachel Vernall for playing guitar at the events at such discounted rates.