Christmas Tree Recycling
Saturday 11 January 2020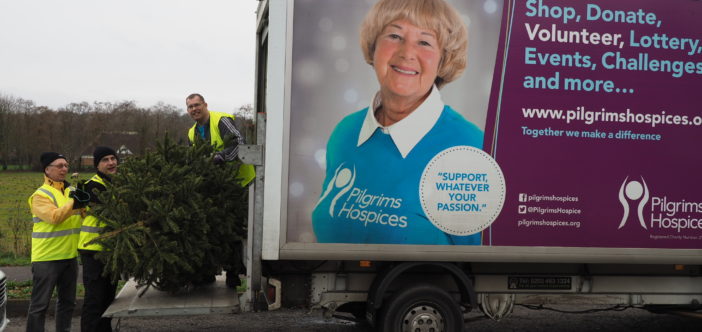 Registration for the Pilgrims Hospices Tree Recycling scheme opens soon!
Our Tree Recycling fundraising campaign offers Christmas tree collections from homes across the Ashford Borough Council area. Simply register your real Christmas tree in return for your chosen donation and our friendly team of Pilgrims volunteers will collect it from you. All trees will be collected for recycling on Saturday 11 January.
Our hospice elves are already getting our fabulous Tree Recycling scheme set for the busy season. Last year the donations we received in return for collecting residents' Christmas trees totalled over £20,000 and we hope even more people will register this time.

Louise Newman, Pilgrims Hospice Ashford Community Fundraising Manager
How your donation could help
This Christmas, your kind support could help local people who are living with a life-limiting illness.
£10 could pay for a patient's Christmas dinner.
£15 could pay for essential nursing supplies.
£20 could pay for a physiotherapy session to help patients stay active and enjoy festive games with their family on Christmas day.
£35 could pay for a relaxing pamper session for a patient or their carer at one of our Therapy Centres this festive season.
£50 could pay for a Christmas tree to decorate our hospice family rooms.
£100 could pay for a therapy session for a child coping with the loss of a loved one over the festive season.
Companies pledge support
Several local companies have already pledged their support. Special thanks to our sponsors, Prospect Tree Mortgages and Ashford Borough Council.

---
Thank you so much for your support
Every generous donation from our amazing community of supporters helps to make sure we can be there for the next family who needs us.
If you or someone you love has been diagnosed with a life limiting illness, find out about the full range of services Pilgrims can offer.