Virtual Hike World Series: Everest Summit
Tuesday 1 February 2022 - Monday 28 February 2022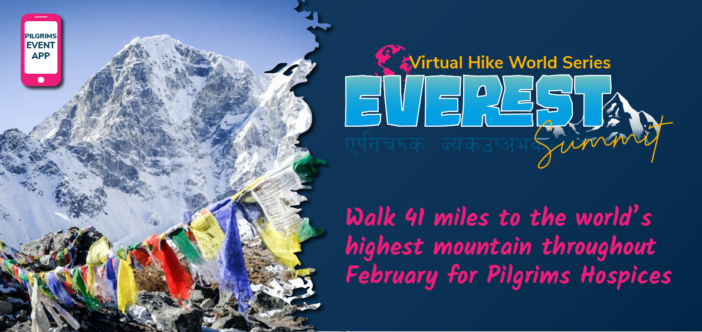 Hike the highest mountain on Earth… virtually this February!
Head for new heights by challenging yourself to walk the equivalent distance of the world's highest trek from Lukla to the summit of Everest (41 miles) from, or near to, your own home throughout February. And for an added challenge, try to claim the Ben Nevis badge by climbing a total of 1,345 m throughout your month of hikes.
Hiking from Lukla to Everest showcases the awe-inspiring beauty of the Himalayas, home to the Sherpa people of Northern Nepal. Since the first successful ascent by Sherpa Tenzing Norgay and Sir Edmund Hillary in 1953, summitting Mount Everest has become the ultimate challenge for the world's best mountaineers. Along the way, you'll 'visit' colourful Sherpa villages and monasteries on your way to Everest Base Camp (5364 m), before traversing the treacherous Khumbu Icefall to reach the highest point of Earth; the summit of Mount Everest (8,848 m).
It's a truly memorable experience and we're giving you the chance, wherever you are, to take on this virtual version of the challenge, without the airfare, to help raise vital funds for Pilgrims specialist end-of-life care.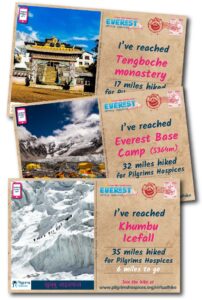 During this extraordinary time of restricted global travel, it is more important than ever to make sure to stay active, feel inspired, exercise and feel connected to one another. Walking is good for us, both for our physical fitness and mental well-being, and you can join our friendly community of Pilgrims Hospice Hikers in our active Pilgrims Hospices Walking and Hiking Facebook group to encourage one another and ask questions.
It's tough but achievable; with some planning and determination anyone can conquer the Virtual Hike: Everest Summit. Why not complete the hike with friends or family to make the journey even more enjoyable.
The interactive route map
How it works
To take part in the Virtual Hike World Series: Everest Summit, simply enter via the 'Register Now' button at the top of this page. Once signed up, you'll receive instructions on how to record your walking activities and track your progress along the virtual Everest Summit trail using the award-winning Pilgrims Event App for iOS and Android devices.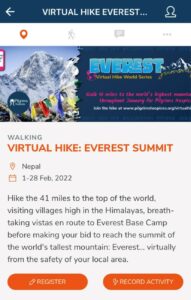 It's free to download from the App Store and Google Play and, along with the free companion app MapMyTracks, will track your walking activities throughout February and update your position along the interactive route map below; so you can see exactly how far you've come and how far you have left until you reach the summit. You can also like and comment on your teammate's activities, receive up-to-date event information, view a detailed route map, and link your JustGiving page to see how your fundraising is going, all in one place.
The challenge runs from 1st – 28th February and all of your walking activities recorded via the Pilgrims Event App during this time will count towards your overall progress along the Virtual Hike route.
You can use any route you like in order to reach your mileage goal. Under the current conditions, we would suggest that you plan routes that start at, or near to, your home to avoid any unnecessary travel. We would also ask that you do not use the virtual hike to stop at any of our hospice sites, even if you are passing by. The safety of patients and staff is paramount, and your participation in the virtual hike is the best means of showing your support.
So if you have some favourite routes around your local area, then please use those to do your virtual hike. You can break the mileage down into as many days as you need to throughout February. All that matters is you cover the distance. We're not even going to ask you to verify your mileage, so if you're a bit over, or under, then that's fine by us.
Every participant will receive exclusive digital 'badges' that they can share as they complete milestones in their journey on social media and elsewhere to show your support for Pilgrims Hospices.
Please note: Only activities recorded using the Pilgrims Event App (MapMyTracks) AND with the activity type of 'Walking' and set as 'Public' will be included in your progress along the virtual map below. If you wish your runs to count towards your goal, that's fine, but remember to save them as 'walking' activities in MapMyTracks.
Take part without using the app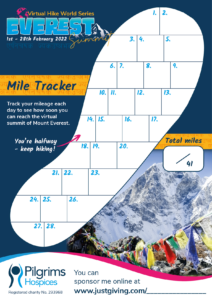 Don't worry if you'd rather not use the app, you can still enjoy tracking your miles along the virtual Everest Summit Trail using our printable mile tracker.
Once you have signed up to the virtual hike, you'll receive all the information you need via an email, including how to download a printable way to track the miles you walk throughout the month. Simply, fill in the number of miles you walk into each day until you've reached the summit of Mount Everest.
The mile tracker is also a great visual way to show your friends and family how far you've come and ask them to donate!
Fun facts about Mount Everest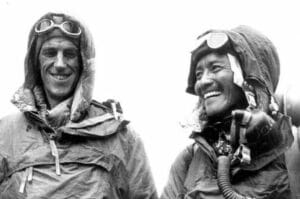 The mighty Mount Everest is the tallest mountain in the world, standing 8,848 m above sea level. Sherpa Tenzing Norgay and Sir Edmund Hillary made the first official ascent of Everest in 1953 using the Southeast ridge. However, decades before, the 1924 expedition resulted in one of the greatest mysteries on Everest to this day: George Mallory and Andrew Irvine made a final summit attempt on 8th June but never returned, sparking debate as to whether or not they were the first to reach the top.
Everest was formed over 60 million years ago when India's continental plate crashed into Asia. India's plate pushed under Asia, forcing a huge mass of land upwards, creating the world's highest mountain range; the Himalayas. And Everest is still growing by 4 millimetres every year!
It takes approximately 39-40 days to summit Everest. This does not include the time spent trekking to Everest Base Camp, which can take 10-14 days. The reason it takes so long to summit Everest is so that the body can acclimatise to the extreme altitude – on the summit there is only a third of the amount of oxygen available compared to at sea level. Climbers normally use bottled oxygen to help them withstand the effects of the extreme altitude.
---
Event information
Virtual event tracking requires a free MapMyTracks account.
We would encourage you to raise as much sponsorship as you can for your Everest Summit challenge!
While for many of us 'doing our part' during the ongoing health crisis means minimising social contact, Pilgrims Hospices nurses and support staff are Still Here; Still Caring and are continuing to provide skilled and compassionate end-of-life care for people living with life-limiting illness across east Kent.
By doing your part for Pilgrims Hospices, you'll truly be making a difference to the lives of our patients. Here's how:
£25 could pay for an hour of specialist nursing care
£30 could pay for our Community Team to hold a video consultation with a patient in their own home
£45 could pay for a virtual counselling session for an individual coping with the loss of a loved one
£90 could pay for all the medicine needed at one of our inpatient units over 24 hours
Take a world tour… virtually
The Everest Summit is the second monthly challenge in our Virtual Hike World Series which will take you on a journey to complete walks in some of the most incredible places on Earth and enable you to step your walking up gradually over the months of January, February and March. But you'll have to wait and see where your virtual hiking will take you next as we reveal the destinations each month!

App achievements

Achievements are an exciting feature within the Pilgrims Event App. During the Virtual Hike: Everest Summit, as well as the digital milestone badges along the way, you can earn badges within the app for completing all kinds of Achievements.
The app will automatically recognise when you have achieved the criteria for any of the badges and add it to the 'Achievements' page within the 'Profile' area of the Pilgrims Event App, together with the date that you earned it!
Eg. Once you have recorded your first walk during an event, either by MapMyTracks recording or by a manual mileage upload, you will earn the Off the Mark badge.
Full list of walking badges to achieve
Off the Mark: Complete your first walk during this event.
Trailblazer: Complete ten walks during this event.
Walk in the Park: Complete a walk of at least 5 miles during this event.
Off the Beaten Path: Complete a walk of at least 10 miles during this event.
Finding your Stride: Cover at least 25% of the event distance.
On the Right Track: Cover at least 50% of the event distance.
On the Home Stretch: Cover at least 75% of the event distance.
Finisher: Complete the full event distance and cross the finish line.
Backyard Explorer: Log over 10 hours of walking during this event.
Scrapbooker: Upload at least one photo during this event.
Super Saturday: Log an activity on the first Saturday of this event.
Hill Seeker: Climb the height of Ben Nevis (1345 m) during this event.
Resources