Hospice nurse Charlotte runs seaside Brighton Marathon for Pilgrims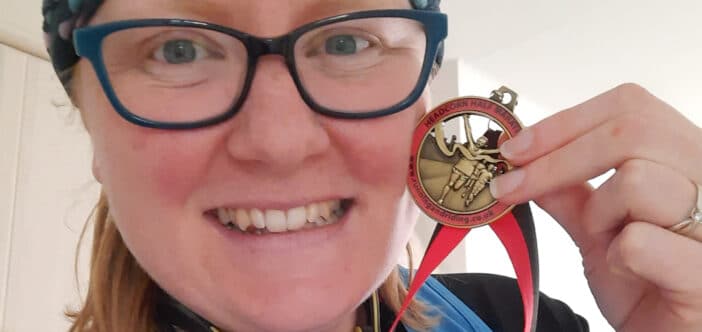 Charlotte Davies (35) from Ashford is a community Palliative Specialist Nurse at Pilgrims Hospices, so she witnesses first-hand the positive impact Pilgrims' care has across east Kent.
As a keyworker, Charlotte has continued to work on the frontline throughout the COVID-19 pandemic, but her support for the charity doesn't stop there. On 12 September 2021, she will run the Brighton Marathon to raise vital funds for Pilgrims and help ensure its services remain free to all those who need them.
---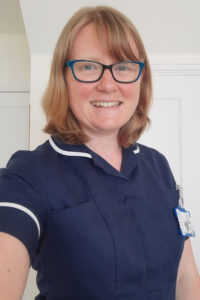 Charlotte worked in intensive care before joining Pilgrims in 2014; initially a community nurse, she changed roles to work as the Ward Sister for one year. After maternity leave, she returned to Pilgrims as a community nurse, a role that she enjoys immensely.
Charlotte completed a degree in End of Life Care in 2015 and began an MSc in Palliative and End of Life Care in 2019.
She said: "As a Pilgrims community nurse, I'm privileged to visit people in their own homes. We provide holistic care, including symptom management advice, psycho-social support and referrals to both internal and external services. Being able to continue providing high quality end-of-life care to people in east Kent is imperative. Pilgrims services are free, and fundraising ensures that we can keep offering them.
"So many people are kind enough to take time out from their busy lives to raise money to ensure our patients and relatives continue to receive the care they need."
Charlotte originally planned to run the Brighton Marathon as her first ever marathon, but then COVID hit and the event was postponed – first to April 2021 and then to October 2021. So instead, her debut marathon was the Kent Spring Marathon in October 2020, which she also ran in aid of Pilgrims.
Being able to continue providing high quality end-of-life care to people in east Kent is imperative. Pilgrims services are free, and fundraising ensures that we can keep offering them.

Charlotte
As part of her fundraising for Brighton, Charlotte is selling colourful memory ribbons; these are being sewn to her Pilgrims vest, which she will wear on marathon day, and each one will have written on it the name of someone who has died. Anyone can purchase a memory ribbon, and they are not only for people who have been cared for by Pilgrims.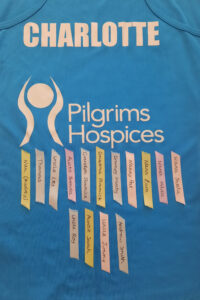 Charlotte said: "My aim is to run in memory of people, regardless of who they were or where and when they died – for example, four ribbons are for my grandparents who weren't cared for by Pilgrims. They are a visual reminder of who I'm running for. This makes it all the more personal for me; I will be honoured to run in memory of so many people and when the going gets tough over 26.2 miles, I'll be reminded why I'm running.
"If someone would like a ribbon, they can donate via my JustGiving page and tell me the name to go on it by leaving a comment when they donate. I've suggested a minimum donation of £3 per ribbon, but people have been giving more than that, which is lovely! Any amount is much appreciated."
Lydia Todd, Challenge Events Fundraiser, said: "Charlotte has been waiting so long to run Brighton Marathon and I can't wait to finally see her cross the finish line and receive her well-deserved medal. Charlotte's idea to run in memory of people, by carrying their memory ribbon with her, is truly heart-warming. It's turning her fundraising, and personal challenge, into a community event and it's amazing to see people come out to support her efforts in full force. We're proud to have her as a member of #TeamPilgrims!"
Charlotte added: "People can sometimes be surprised to learn that Pilgrims' services are free. Through fundraising, we can help ensure that they remain accessible to all those who need palliative care and support in east Kent."
You can keep up to date with the Charlotte's fundraising journey and purchase memory ribbons on her JustGiving page.
Inspired to follow in Charlotte's footsteps and run the Brighton Marathon for Pilgrims? Charity places are available; register here by 5 August 2021.
---
Each year Pilgrims Hospices give care and comfort to over 2,500 people in east Kent who are coming to terms with an illness that sadly cannot be cured. The charity support patients to live life as well as possible until the very end, free from pain and distress.