Canterbury Half Marathon 2021
Monday 30 August 2021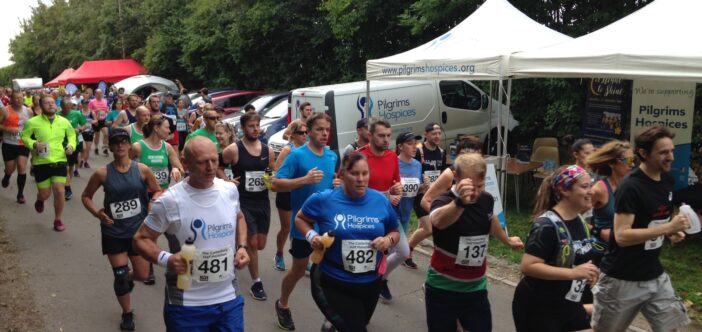 Canterbury Half Marathon will return on Monday 30 August 2021.
Organised in aid of Pilgrims, the Canterbury Half Marathon is a real highlight in Kent's sporting calendar. It attracts a huge bank holiday crowd each year, from those chasing a personal best to other runners who are aspiring to go the distance. Held against the beautiful backdrop of the Kent Downs, the 13-mile, signed and marshalled, course challenges both the novice and veteran alike as runners navigate the undulating country lanes on the outskirts of this historic city.
You can view the route here: Canterbury Half Marathon route.
Apply to run in 2021
Up for the challenge? You can sign up for the Canterbury Half Marathon as a Pilgrims Hospices runner for free with a pledge to raise at least £100 in sponsorship.
The £100 that you raise could enable Pilgrims to provide 4 hours of specialist nursing care to a patient receiving end-of-life care in one of our inpatient units in Ashford, Canterbury or Margate; thank you!
If you have applied for your own place in Canterbury Half Marathon and would like to run in aid of Pilgrims Hospices we would love to hear from you! Get in touch today so that we can support you with your training and fundraising.
Nice Work have developed a number of new procedures to ensure their races will be Covid-secure and safe for runners, staff and the general public. These include, but are not limited to:
Rather than a single start time for all runners, a pre-booking system with start times available in 3-minute slots, beginning at 8:00am and finishing at 10:00am will be available. A maximum of twelve people will be able to begin the race in each slot – with each of these people having an allocated place on the start line according to their anticipated finish time.
Nice Work are asking all runners to arrive ready to run. There will be no changing facilities, or facilities to leave bags.
A sterile area will be in force around the start line with strictly no access to anybody other than participants and race officials. Once a runner enters this area they will not be able to leave until the race begins.
Hand sanitiser will be available and all runners are asked to use it regularly.
All runners must maintain social distancing at all times – before, during and after the event. It is asked that when overtaking another runner that you are mindful of the space available.
---
Resources
---
Canterbury Half Marathon 2017