Christmas Tree Recycling – Canterbury (Cancelled)
Saturday 9 January 2021 - Sunday 10 January 2021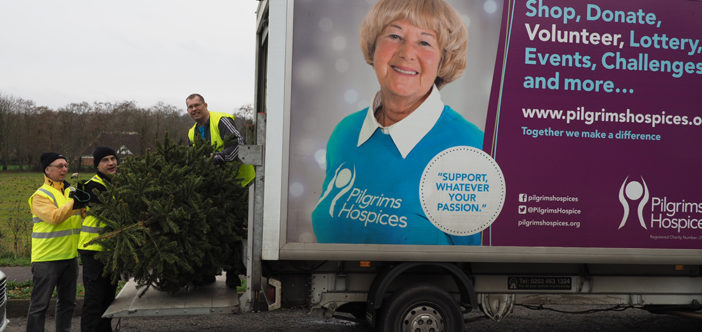 Cancellation of Christmas Tree Recycling following announcement of new Tier 4 restrictions

The ongoing health crisis is at the forefront of all of our minds as we navigate a very challenging winter. Here at Pilgrims Hospices, we've been monitoring the guidance from authorities to inform how best we can do our part to protect our patients, staff, volunteers and, of course, the wider community that we serve.

Due to the unforeseen government announcement on Saturday 19th December 2020, relating to the current spread of COVID-19 across the region and the introduction of new 'Tier 4' restrictions affecting Kent, Pilgrims Hospices can no longer safely continue with our planned Christmas Tree Recycling scheme.

It is with sincere regret and resignation that the decision has been made to cancel the event for the safety of all involved in-line with the government's new 'Stay at Home' guidelines.

The Christmas Tree Recycling scheme relies on a large number of volunteers (working in small family bubbles) to carry out the logistics necessary for such an initiative; during collections in the Ashford area, at the drop off stations in Canterbury and Thanet, and in the many days beforehand as event logistics, equipment and collection routes are arranged. Their safety, and that of our supporters is our highest priority and that is why, in light of these new guidelines, we must make this unfortunate decision.

While we understand that this decision may come as a disappointment to some, we hope that you will agree that it is a necessary one in the fight to delay the spread of coronavirus in our community.

We are saddened that we will be unable to fulfil tree recycling bookings as requested. Over the past 8 years, through the scheme, you have raised in excess of £115,000 for Pilgrims Hospices care and many hundreds of you had already pledged your support this festive season. It is only through the kind donations from members of our community, like you, that we are able to continue providing skilled and compassionate end-of-life care to all who need it across east Kent. This year more than ever, your support is so important to us, thank you.

What will happen with my Christmas Tree Recycling entry?

In light of the event's cancellation, we are offering refunds to all donors upon requests to fundraising@pilgrimshospices.org. Please submit your request to receive a refund before Sunday 17th January 2021. All refund requests will be automatically processed commencing 18th January 2021.

However, if you wish for Pilgrims Hospices to keep your donation to support the care of our patients over the festive period and beyond, there is nothing further you need to do. If we haven't received a refund request by the above deadline, we will ensure you are thanked for your kind gift.

During this health crisis, Pilgrims nurses, doctors and support staff are still here providing specialist end-of-life care for some of the most vulnerable people in our community, making them comfortable, alleviating pain and enabling them to live well for the time that they have.

Thank you so much for your continuing support of Pilgrims Hospices, especially during this challenging time. Keep well, take care of each other and very best wishes for a happy and healthy New Year.

With best wishes,
Sue Sharp, Director of Income Generation & Marketing
and the Pilgrims Hospices Fundraising Team
Registration for the Pilgrims Hospices Tree Recycling scheme has closed due to government COVID-19 restrictions.
Due to the event cancellation and as we can longer accept Christmas Trees, please refer to your local council website regarding how to dispose of your tree. More information here: www.canterbury.gov.uk/directory_record/1527764/christmas_trees_real.
Pilgrims Hospices is proud to be rolling out our renowned Christmas Tree Recycling fundraising campaign into Canterbury and Thanet for the first time (now cancelled).
This special fundraising initiative has been running for 8 years in the Ashford Borough Council area and has raised in excess of £115,000 for local hospice care over this time.
Now, we are thrilled to bring you an easy-to-access Christmas tree drop off station in Canterbury!
Registration
*Registration for this event has now closed.*
You must register your tree for collection by Monday 4th January 2021.
Supporters register to drop-off their real Christmas tree, in return for a chosen donation. Our friendly team of Pilgrims volunteer elves will meet and greet you at our COVID-Secure tree recycling station during a designated time slot between Saturday 9th – Sunday 10th January 2021. We will then recycle your tree for you.
You can select your preferred time slot during booking. However, we encourage you to book early before the capacity for your preferred time is reached as there will be a limited capacity.
Booking slots are between these times for each of the two days:
08:00 – 09:30
09:30 – 11:00
11:00 – 12:30
12:30 – 14:00
14:00 – 15:30
On arrival you will be marshaled into the drop-off area via our volunteer elves, you will then be remotely checked in and asked to drop-off your tree.
Check whether your address is in the Canterbury City Council Area via this map. If you live outside of the Canterbury City Council area but would still like to drop your tree to us in Canterbury, you can book online and donate to Pilgrims Hospices for this new campaign. Please simply complete the booking form in full.
Please note: images were taken prior to the COVID-19 pandemic
COVID-Secure Drop-off Point
Our Christmas tree drop-off point is located at the University of Kent, Canterbury, CT2 7NZ. Only those who have pre-registered for the tree recycling scheme should bring their tree to the drop-off location, and only during their specified time slot. PLEASE DO NOT BRING YOUR TREE IF YOU HAVE NOT PRE-REGISTERED.
We can only accept two trees per vehicle, please do not bring vans full of trees, these will not be accepeted due to the detailed planning and logistics of this scheme.
Here are just some of the measures in place to keep both you and our team safe during the pandemic:
Fully open-air, drop-off station.
Clear, one-way, drive in, drive out Christmas Tree drop-off system.
Designated timeslots between 9 – 10 January 2021.
Hand sanitiser available and face coverings to be worn at all times while at the drop-off station.
Pilgrims Hospices will continue to monitor government guidance regarding any potential impact to the event relating to tier restrictions. The event will be operated in a socially distanced and COVID-secure format throughout. We are working closely with KCC, local councils, recycling centres and private land owners regarding the safe operation. We will continue to update you should there be any changes to the proposed operation.

How your donation could help
This Christmas, your kind support could help local people who are living with a life-limiting illness.
£10 could pay for a patient's Christmas dinner.
£15 could give a complimentary therapy session to a patient, relieving anxiety.
£20 could provide for a physiotherapy session to help patients stay active and enjoy festive games with their family on Christmas day.
£30 could pay for our Community Team to hold a video consultation with a patient in their own home.
£45 could pay for one-on-one counselling for someone struggling to cope with the loss of a loved one this festive season.
£100 could allow our community nurses to continue making home visits, ensuring that patients can spend Christmas at home with family and friends.
How are the Christmas trees recycled and how is the money raised?
This Pilgrims campaign, now in its 9th year in Ashford, has raised an incredible £115,000 to support the vital care of patients facing incurable illness in east Kent. In January 2020 alone, we collected over 1,350 real Christmas trees and raised in excess of £21,000. We are only able to raise this through generous online donations.
The tale of the collected trees is that once you have dropped-off your tree to us, our volunteer elves then transport the trees to the local Recycling Centre. From there, they are taken to an outlet in Capel-le-Ferne near Folkestone and here the trees are composted via an open windrow system and the resultant compost is used as a soil improver on the farm land for growing arable crops. What's even better is that, whilst helping to support the charity, you will be reducing your environmental impact too. Some of our trees are also chipped, some are used for horse jumps at an equestrian centre and others are donated to an animal rescue centre. So, as you can see, your tree's onward journey is far more valuable than just being put out after Christmas.
Companies pledge support
Several local companies have already pledged their support. Special thanks to our Kent Sport and our partners FCC Environment.
---
Thank you so much for your support
Every generous donation from our amazing community of supporters helps to make sure we can be there for the next family who needs us.
If you or someone you love has been diagnosed with a life limiting illness, find out about the full range of services Pilgrims can offer.
❅
❅
❅
❅
❅
❅
❅
❅
❅
❅
Address information
Venue:
University of Kent
City: Canterbury
Postcode: CT2 7NZ