Grub by the Greene at Sene Valley Golf Club
Tuesday 4 May 2021 - Wednesday 4 May 2022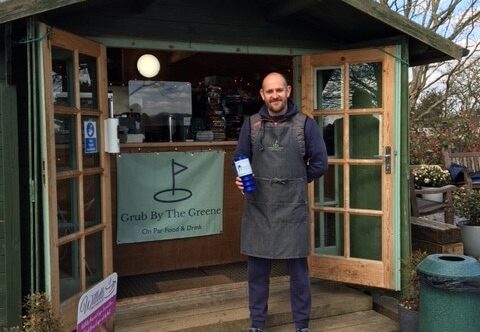 Grub by the Greene is the halfway hut making a difference to local hospice care.
---
Phil Greene is a local hospice supporter and has opened a family business at the Halfway Hut at Sene Valley Golf Course, Hythe.
This family run business is selling barista-style coffee and the perfect treats for a halfway pit stop whilst playing your round of golf. The business is also supporting its local hospice by collecting donations in one of our Pilgrims Hospices collection pots.
In 2020, over £18,000 was donated via our blue collection pots placed at venues throughout east Kent. Every penny really does make a difference to vital hospice care for the next family that needs Pilgrims support.
Next time you enjoy a round at Sene Valley Golf Club, don't forget to grab a treat and donate to Pilgrims Hospices at the Halfway Hut.
Event information
Venue:
Halfway Hut at Sene Valley Golf Club
40 Blackhouse Hill, Hythe CT18 8BL