Hadrian's Wall 25km Trek
Saturday 13 August 2022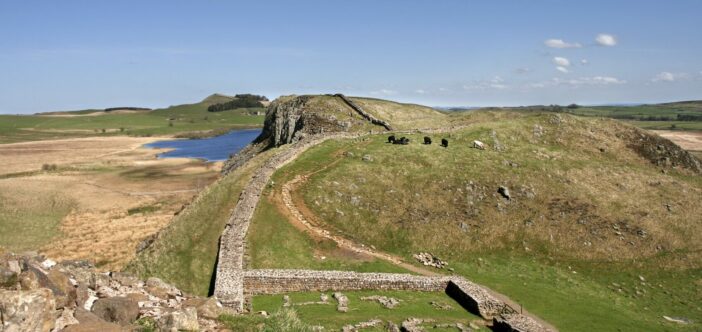 1 wall, 1 day and 1 epic challenge!
Explore Hadrian's Wall as you trek 25km from Housesteads Roman Fort to Wall Town National Park Centre, encompassing the most fascinating of ruins.
Hadrian's Wall was built in AD122 on the order of the Roman Emperor Hadrian, and stretched from the East to West coasts of Britain from Bowness on Solway in the West to Wallsend in the East. Now a UNESCO World Heritage Site which cuts through Northumberland National Park. Hadrian's Wall offers great challenges, filled with a stunning backdrop and history.
Challenge yourself and trek 25km along Hadrian's Wall – one wall, one day and one epic challenge!
Dates
Challenge Itinerary
Brocolitia Roman Fort to Wall Town National Park Centre
You'll meet the Global Adventure Challenge crew, and your fellow hikers, for event registration at Wall Town Car Park and will be transferred to the start point at Brocolitia Roman Fort.
The start of your walk along Hadrian's Wall will offer you breathtaking views across Northumberland National Park at Peel crags, and you'll continue trekking along some of the most beautiful and visible sections of the wall, passing many roman forts or 'Milecastles' as they were once called.
As your legs begin to tire, you'll reach your finish point at Wall Town National Park Centre for a well-deserved glass of fizz. Once you've rested your legs and catch your breath, you are free to make your onward journeys home.
Please note, this is a complex itinerary – times, distances and logistics are subject to change.
What's included?
Complimentary snacks and packed lunch
Full support from Global Adventure Challenges experienced crew
Support vehicle
Hadrian's Wall 25km Brochure (inc. itinerary)
Perfect for:
Suitable for people of all abilities who want to take on a new challenge in a short amount of time, you'll just need to put in a bit of training! Very good physical condition and fitness is needed, though no technical skill required.
What extra costs are there?
The following are not included in the tour price:
Breakfast and dinner
Tips and gratuities
Personal trekking kit
Fundraising options
With 80% of our funding coming through voluntary contributions from our local community, the difference your support makes cannot be overstated.
There are two methods for getting involved with our classic trekking adventure:
Charity Sponsorship
Secure your place on the trek with a non-refundable registration fee of £49
Plus a pledge to raise at least £200 sponsorship in support of Pilgrims Hospices.
Your sponsorship will cover the costs of your trip and raise £100 for hospice care; this could pay for all the medicine used in one of our three inpatient units for 24 hours.
Self Funding
Secure your place with a non-refundable registration fee of £49
Plus fund the challenge for £100 and fundraise as much as you can for local hospice care.
Every £25 that you raise will pay for an hour of specialist nursing care to an individual in east Kent living with an incurable illness.
What are the next steps?
Once you've decided that you are up for the challenge of tackling the Hadrian's Wall 25km Trek and you've selected your fundraising option, the next steps are very simple.
Complete and submit the online booking form.
Once your application has been received by our partners, Global Adventure Challenges, they will ask you to secure your place on the trip with the £49 registration fee.
Pilgrims Hospices will then be in touch to welcome you to #TeamPilgrims and the countdown to your trek will begin!
Resources
Location
Hadrian's Wall, Northumberland
Address information
Venue:
Walltown Country Park
Walltown Quarry
City: Greenhead
County: Brampton
Postcode: CA8 7HF
Contact information
Email: lydia.todd@pilgrimshospices.org
Contact name: Lydia Todd
Phone: 01227 812 609