Charity Golf Day at Lydd Golf Club
Thursday 19 August 2021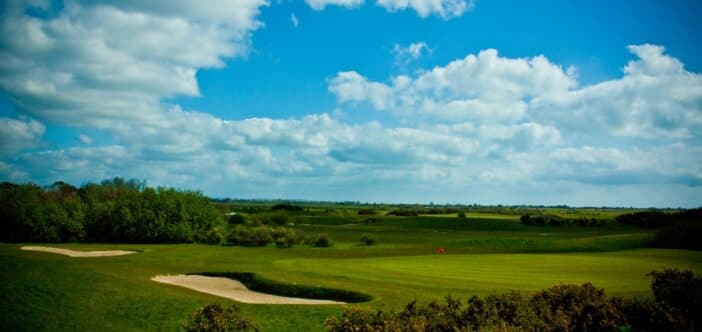 Lydd Golf Club Seniors are holding a Charity Golf Day in aid of Pilgrims Hospices.
---
Lydd Golf Course is a set in a spectacular setting with beautiful lakes on 11 of the 18 holes, and is situated in the rural Kent countryside.
The day will start, and tee times will be drawn from 8:00am until 11:00am (approx.), playing in groups of 3/4 (please note: these groups may be split depending on numbers entered). The club aims for the golf day to be finished at approximately 2:00pm.
There will be a rolling BBQ or buffet (depending on the weather) and a raffle on the day. Competitors are encourage to bring a small gift to be included in the raffle. Hot and cold drinks will be available for sale throughout the day for golfers.
Prizes will be awarded to the best teams and nearest the pin etc. Lydd Golf Club Seniors are hosting this golf day in aid of Pilgrims Hospices and the prizes will therefore be nominal to ensure as much money as possible is raised for local hospice care.
The cost for the day, including food, golf and small prizes is £32 per person for non-members and £12 for members. Entries are invited from single players and groups. If you are entering as a single person the club will find you a partner for the day. Please ensure that you supply your contact details when applying to enter.
Lydd Golf Club have been long-term supporters of their local hospice, through Captain's support and fundraising activities since 2002. Pilgrims Hospices are incredibly grateful for the club and all the captains on-going support to raise vital income for end-of-life care in east Kent.
Event information
Venue: Lydd Golf Club, Romney Road, Romney Marsh TN29 9LS
Date and time: 19 August 2021 8:00am – 2:00pm
Price: £32 per person for non-members and £12 for members of Lydd Golf Club
How can I book?
If you would like to find out more information about Lydd Golf Club Seniors Charity Golf Day event, please contact Robert Weller (Seniors Captain) on kathandrob@hotmail.co.uk or 07789 480100. If you are a member of another club, please let Robert know your home club and your handicap.
---
Thank you so much for your support
If you or someone you love has been diagnosed with a life limiting illness, find out about the full range of services Pilgrims can offer.
Address information
Venue:
Lydd Golf CLub
Romney Road
City: Romney Marsh
County: Kent
Postcode: TN29 9LS
Contact information
Email: kathandrob@hotmail.co.uk
Contact name: Robert Weller
Phone: 07789 480100