Pilgrims Golf Day – Cave Hotel and Golf Resort, Boughton
Friday 17 September 2021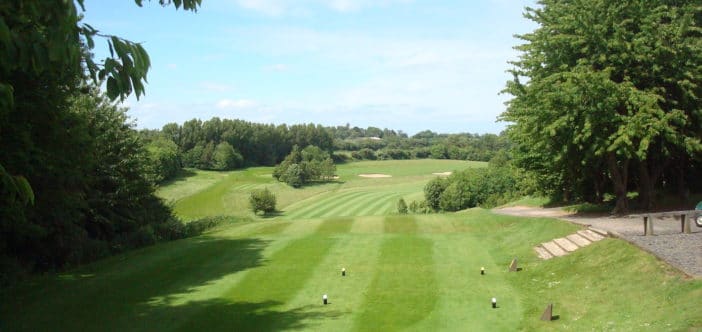 Go above par for Pilgrims Hospices!
Each year, golfers combine their love for the sport with supporting Pilgrims Hospices, and this year, we're proud to introduce our brand-new Pilgrims Golf Day at Cave Hotel and Golf Resort, Boughton-under-Blean.
Gather your friends, family and colleagues and enjoy a morning of golf at this recently redeveloped golf club, set amidst 167 acres of rolling countryside, which now features the elegant Cave Hotel. The 18-hole course is set within Kentish farmland, and whilst you take in the marvellous views you'll be helping to raise vital funds for your local hospice; who continue to provide skilled and compassionate end-of-life care for people living with life-limiting illnesses in east Kent, now and in the future.
Our Pilgrims Golf Day will be operated in a COVID-secure format within the government guidance at the time of the event. 
Pilgrims Golf Day Itinerary
When you arrive at the Cave Hotel and Golf Resort, Boughton at 9:00am, you will be welcomed to the event with a bacon roll, alongside tea or coffee prior to teeing off with a shotgun start at 10:00am.
After enjoying your round of golf, with the knowledge that you've supported local hospice care, you will be welcomed back to a delicious lunch.
Arrival at 9:00am
Bacon roll, with tea or coffee served from 9:00am
Shot gun start at 10:00am
Enjoy a delicious lunch meal after your round
Book your place
We are welcoming teams of 4 to take part four-ball for the Pilgrims Golf Day, and are asking teams to pay £62.50 per person. This price includes your bacon roll, tea or coffee and delicious lunch.
To receive a Pilgrims Golf Day booking form and to find out more please contact our Canterbury Fundraising office on 01227 812621 or email leila.ilkhan@pilgrimshospices.org.
Sponsor a hole
We hope that our Pilgrims Golf Day at Boughton Golf Course will raise vital funds to help us care for the many individuals, and families, that need us now and in the future. We are pleased to be offering local businesses the opportunity to sponsor one of the 18 holes on the Boughton Golf Course for the duration of our event.
By sponsoring a hole, your business will receive:
Your branding showcased at the tee of your chosen hole (subject to availability)
Your branding showcased on our website as a 'sponsor a hole' supporter
You will receive a public thank you on the day and be mentioned within thank you correspondence
If you would like to sponsor a hole at our Pilgrims Golf Day at Boughton Golf Course, please contact Leila Ilkhan on 01227 812621 or email fundraising@pilgrimshospices.org.
---
Thank you so much for your support
Every generous donation from our amazing community of supporters helps to make sure we can be there for the next family who needs us.
By taking part in Pilgrims Golf Day, you'll truly be making a difference to the lives of our patients. Here's how:
£90 could pay for all of the medicine used at one of our inpatient units over a 24 hour period.
£270 could pay for a programme of six 2 hour one-to-one bereavement counselling sessions for someone struggling to cope with the loss of a loved one.
£500 could pay for a 12 week programme of a Time to Create group for 10 people.
£800 could pay for one patient's care at one of our inpatient units for 24 hours.
£1,250 could pay for a programme of 12 full day sessions of a Live Well Group for 10 people
£1,400 could cover the cost of our community care teams at one of our sites for 24 hours
We would like to say a special thanks to Boughton Golf Course and their team for their support with the Pilgrims Golf Day. 
If you or someone you love has been diagnosed with a life limiting illness, find out about the full range of services Pilgrims can offer.