Pilgrims Summer Fair at The Farriers Arms
Saturday 7 August 2021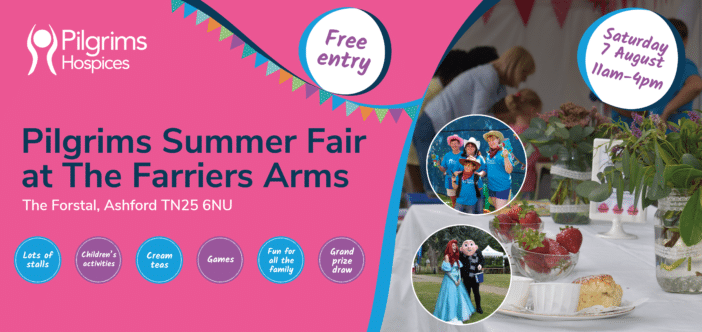 Enjoy the Pilgrims Summer Fair at The Farriers Arms on Saturday 7 August, a new venue for our annual summer fair.
---
Come and enjoy a fun day for the whole family at our much-loved summer fair in the beautiful village of Mersham in the lovely surroundings of their local public house 'The Farriers Arms'. With a wide range of traditional stalls to visit there will be something for everyone. Whether you want to take a chance on one of our tombola's or just play a few fun games, there are lots of prizes to be won, food to be eaten and fun to be had.
Or, you can bring your own chairs and blankets and just simply sit back, relax and be tempted with an afternoon tea, yummy homemade cakes and a selection of savouries. Maybe have a browse around some of the popular stalls including a plants stall, local produce and crafts or our very own Pilgrim's market place with a selection of many new goods.
There will also be lots of things to keep the children entertained including a visit from our beautiful princess and also a mesmerising magician. Whatever you like, there is something for all ages and all budgets, so come along and enjoy a lovely summer's day out in these beautiful surroundings.
Pilgrims last Summer Fair in 2019 raised in excess of £21,000 for end-of-life care in east Kent. Please help Pilgrims Hospices to support people across east Kent who are living with an incurable illness, now and in the future.
Event information
The Pilgrims Summer Fair takes place on Saturday 7 August between 11am and 4pm.
Entry to the fair will be free, with donations welcomed.
Parking
Free parking is available on site. Please take direction from our car parking marshals.
This event will be operated in a COVID-Secure format within the government guidance at the time of the event. All photos taken prior to COVID-19.