Prudential RideLondon 2020
Sunday 16 August 2020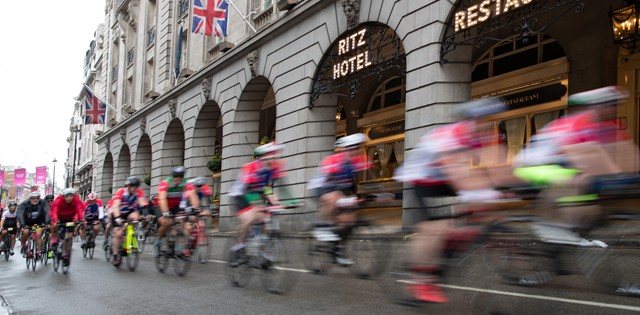 Join 20,000 other cyclist taking on the 100 mile route through the heart of the capital, made famous by the world's best cyclists in the London 2012 Olympics.
Prudential RideLondon-Surrey 100 starts from Queen Elizabeth Olympic Park, then follows a fully closed road route through central London and into Surrey's stunning countryside. With leg-testing climbs and beautiful scenery, it's  a truly spectacular event for all involved. The Prudential RideLondon-Surrey 100 finishes on The Mall, shortly before 150 professional cyclists race in the Prudential RideLondon-Surrey Classic on a similar route.
It's an experience not to be missed by the novice and seasoned cyclist alike!
See the RideLondon-Surrey 100 route here
---
Sign up to ride in 2020 now!
You can apply for one of Pilgrims Hospices 5 guaranteed charity places in the RideLondon-Surrey 100 2020. Our charity places are allocated on a first come, first served basis. These places are offered to supporters for a registration fee of just £40 and a pledge to raise at least £400 sponsorship.
Click here to complete the application form
Missed out on a Pilgrims place?
The public ballot for Prudential RideLondon 100 is open now! Visit www.prudentialridelondon.co.uk to enter for your chance to ride in 2020.
If you're successful in securing your own place through the race organiser's ballot, we'd love you to join #TeamPilgrims and ride in support of thousands of people across east Kent who are living with a life-limiting illness. Simply email Lydia Todd (Challenge Events Fundraiser) on lydia.todd@pilgrimshospices.org and we'll get in touch with ways we can support your fundraising.
Resources