Swim Serpentine
Saturday 16 September 2023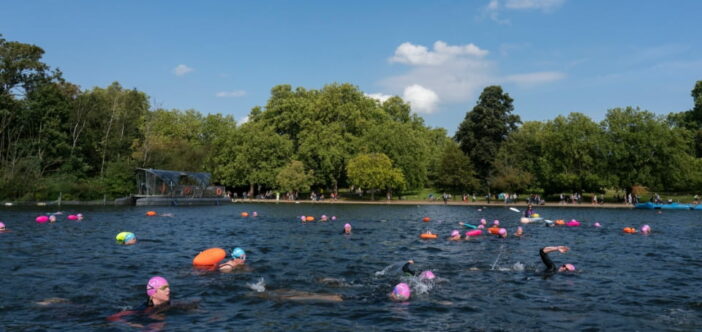 Take the plunge for Pilgrims Hospices! 
Swim Serpentine, the UK's biggest one-day open water swimming festival, is taking place on Saturday 16 September in the heart of London. The last event saw more than 5,000 swimmers take part; with open water swimming continuing to grow in popularity, it's expected to be a big year!
Make a splash for Pilgrims Hospices with a charity place in Swim Serpentine! Choose between a 1-mile or 2-mile challenge around the historic Serpentine in Hyde Park.
Swimmers are set off at regular intervals during the morning to ensure that you have plenty of space to swim your challenge safely and successfully. All your needs are catered for with heated changing rooms, a dunk zone, pontoon start and finish, full water safety crews, and an exhibition area.
All swimmers will receive a souvenir swim cap to wear on the day and be awarded a well-deserved medal for completing the challenge.
You'll be sure to have a splashing good time at Swim Serpentine, whilst raising much-needed funds to help Pilgrims be there for the next family who need us.
---
Dive into your chosen distance
One-mile swim (Enter before 31st August)
Dip your toe into open water swimming by taking on the 1-mile swim around the iconic Serpentine lake. The mile is a classic distance in the world of open-water swimming. The one-mile swim covers one full lap of the lake, which is the same course as the London 2012 Olympic Marathon swimming event. The one-mile swim can take swimmers anything from 20 minutes to one hour to complete.
Two-mile swim (charity places sold out)
Take the plunge with a 2-mile swim within the beautiful grounds of Hyde Park. The two-mile swim will see you complete two full laps of the Serpentine lake, and is perfect for experienced swimmers looking to push themselves and build on their distance.
---
Apply to swim for Pilgrims Hospices!
You can apply now for Swim Serpentine as a Pilgrims Hospice swimmer for free with a pledge to raise sponsorship for local hospice care in east Kent.
One-mile swim: £200 – Enter today
Two-mile swim: £250 – Places filled
Every £25 raised for your Swim Serpentine challenge could enable Pilgrims Hospices to provide another hour of specialist nursing care to a patient at one of our hospices in Ashford, Canterbury or Thanet. Thank you!
---
Secured your own place in Swim Serpentine?
If you've secured your own place in Swim Serpentine, swim in aid of Pilgrims Hospices and support local hospice care.
Get in touch today with the fundraising team so that we can support you with your training and fundraising.
Resources