Thanet 5k Colour Run (Cancelled)
Sunday 27 September 2020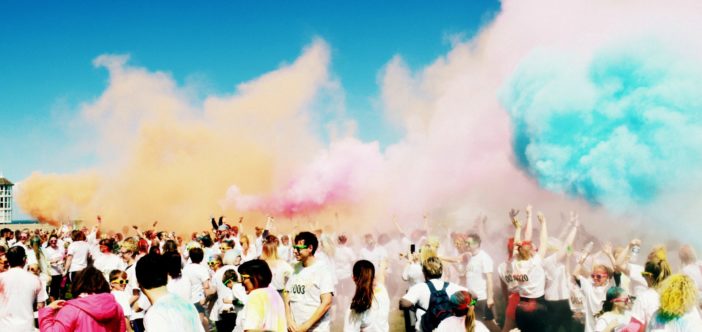 The Colour Run cancelled until Sunday 26 September 2021.
Official Statement 27/07/2020
The ongoing Covid-19 pandemic is at the forefront of many of our minds and, here at Pilgrims Hospices, we've been continually monitoring the guidance from authorities to inform how best we can do our part to protect our patients, staff, volunteers and, of course, the wider community that we serve.
Though the national lockdown is slowly easing, Covid-19 continues to spread through the population with localised case spikes in various places across the country. As such, the government have yet to make any announcement regarding the return of large-scale events. Additionally, social distancing measures introduced by the government, remain in place and are likely to continue to be restrictive for mass gatherings, such as the Thanet 5k Colour Run for the foreseeable future. This makes the concept of the Colour Run and running or walking through clouds of brightly-coloured powder paint unsafe due to social distancing requirements. We have therefore made the decision to cancel the Thanet 5k Colour Run that was scheduled to take place on Sunday 27th September 2020.
Though we understand that this decision may come as a disappointment to those, keen to take part and support Pilgrims Hospices, we hope that you will appreciate the position that we, and many other charities, are in. Our number one priority is the safety and enjoyment of everyone who attends a Pilgrims event and we hope that you will agree that it is necessary to protect our community.
The Thanet 5k Colour Run will return instead on Sunday 26th September 2021.
What are my options for my Colour Run entry?
In light of the event's cancellation, we are offering the following options to all participants:
If you would like to rollover your entry and attend the Colour Run on Sunday 26th September 2021, you don't need to do anything at this time. We will automatically defer your entry onto next year's Colour Run if we haven't heard from you before Friday 14th August 2020.
If you wish to receive a refund of your entry fee, please email Karen.Kenward@pilgrimshospices.org before Friday 14th August 2020 with your request. All entries will be refunded via the original payment method. All refunds will be processed from Monday 17th August.
If you do not wish to rollover your entry to 2021 or receive a refund, but wish to donate your entry fee to Pilgrims Hospices, please email Karen.Kenward@pilgrimshospices.org.
If you have any questions about your fundraising for the Colour Run please also contact the fundraising team using the email address above.
---
Event information
This family-friendly 5k event is an explosion of colourful fun. Take in amazing coastal views as you run and walk through clouds of brightly coloured powder paint around the route. Gather friends and family to join the energetic atmosphere of over 1,000 people running, jogging and walking along Thanet's spectacular seafront.
Entry includes a white t-shirt, paint sachet, funky sunglasses and finisher's medal.
Catering will be available on site.
Entry
This event has been cancelled and entry is no longer possible.
What happens on the day?
9am – 11am: Registration will be open
11.30am – 1.30pm: Thanet 5k Colour Run takes place
Resources