Thanet 5k Colour Run 2023
Sunday 1 October 2023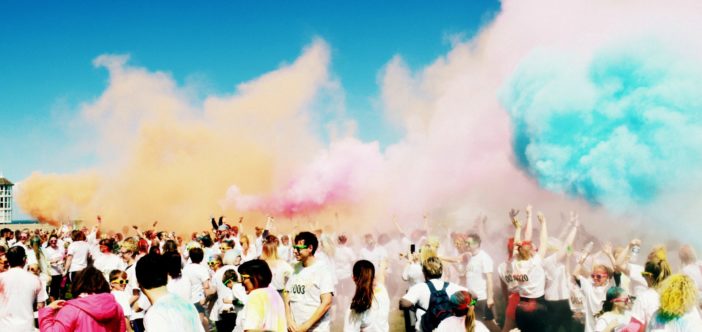 We're back to colour the coast!
This family-friendly 5k event is an explosion of colourful fun. Take in amazing coastal views as you run and walk through clouds of brightly coloured powder around the route.
Gather friends and family to join the energetic atmosphere of people running, jogging and walking along Thanet's spectacular seafront.
By taking part in the Thanet 5k Colour Run, you'll be helping Pilgrim Hospices to continue caring for people right across east Kent who are facing a life-limiting illness.
---
Entry
We anticipate more than 1,000 participants including runners, joggers and walkers joining us on the day. All are welcome to support Pilgrims. We encourage you to register early to make the most of the reduced price entry.
Early bird entry - before the 7th August 2023
Ages 12 and over - £19
Ages 11 and under - £12
Standard entry  - before 25th September 2023
Ages 12 and over - £24
Ages 11 and under £15
On the day entry (if still avaliable)
Ages 12 and over - £28
Ages 11 and under - £15
What happens on the day?
9am – 11am: Registration will be open
11.30am – 1.30pm: Thanet 5k Colour Run takes place
Entry includes a white t-shirt, paint sachet, funky sunglasses and finisher's medal. We encourage you to consider the environment and bring your own plain white t-shirt to wear on the day. We provide the white t-shirts for event safety and colour protection, but if you can recycle an old one, then that is appreciated.
This year, our participant wristbands are also environmentally friendly! Each wristband is bio-degradable and contains wild flower seeds within the band, meaning you can take it home and plant it in your garden!
Catering will be available for purchase on site.
---
Resources
Location
Thanet
Address information
Venue:
Palm Bay Green (New location!)
Palm Bay Avenue
City: Cliftonville, Margate
Postcode: CT9 3NR
Contact information
Email: karen.kenward@pilgrimshospices.org
Contact name: Karen Kenward
Phone: 01843 233 934