Wing Walking – August 2020
Saturday 22 August 2020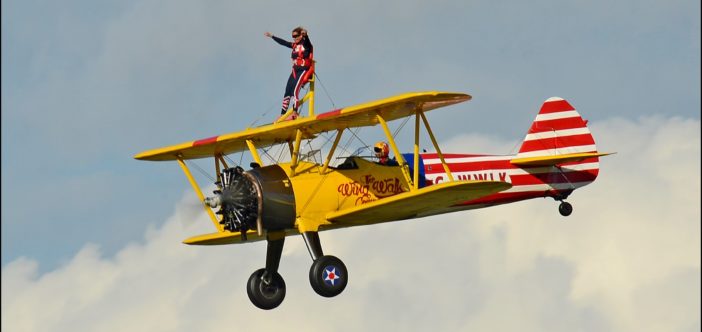 Take a walk on the wild side for Pilgrims Hospices with our brand new, adrenaline-fuelled Wing-Walking challenge.
Experience a true sense of freedom as you take to the skies in aid of Pilgrims Hospices. Soar through the air at speeds of up to 120mph strapped to the wing of a Boeing Stearman biplane! You'll take in the breathtaking views of the east Kent countryside from a birds eye view, all whilst raising much needed funds for local hospice care.
Apply now to wing walk for Pilgrims
You can also enter via post by downloading our application form.
We're pleased to announce that The Wing Walking Company have received permission from the Department for Transport and the Civil Aviation Authority to commence flying! The Wing Walking Company have taken the necessary steps to ensure that they are following Government guidelines at all times during flights; including implementing social distancing and wearing PPE when necessary. The team at The Wing Walking Company have worked hard to ensure that they are creating a safe environment for all wing-walkers. If you'd like to read more about the steps that have been taken, you can read their Covid-19 guidelines for wing walking here.
---
Date
Saturday 22 August 2020 – fully booked
Saturday 19 September 2020
What do I need to do?
Taking on a wing walk for Pilgrims is as simple as paying your £40 deposit. If you raise our £650 minimum sponsorship target, your wing walk will be free!
Deposits are non-refundable but will count towards your sponsorship target.
Can anyone take part?
Yes, anyone over 18 years old can do a wing walk. Experience isn't necessary. You'll receive all the training you need on the day and will have the opportunity to tailor your flight with the Pilot to either achieve the maximum adrenaline experience for you or a more relaxed flight.
For safety reasons, a few restrictions do apply:
If you're aged between 66 – 75 years of age, a GP's declaration of good health for their age is required.
Those with exisiting health conditions, and anyone over 40 years old, must sign a declaration of fitness in order to participate.
There is an upper weight limit of 85kgs (13st 4lb). You may be weighed during registration.
You can find learn about what to expect on the day and the wing walking criteria by visiting The Wing Walking Company's website.
Resources