Wing Walking – July
Sunday 17 July 2022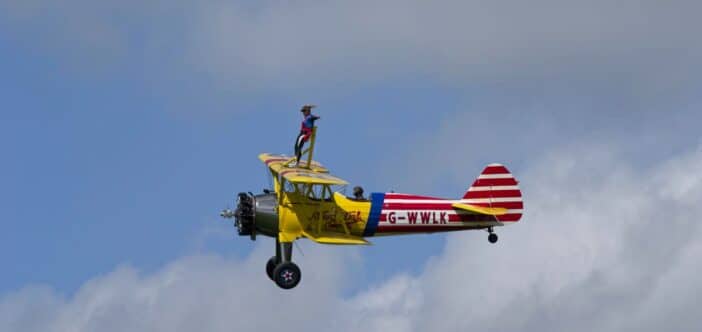 Take a walk on the wild side for Pilgrims Hospices with our adrenaline-fuelled Wing-Walking challenge.
Experience a true sense of freedom as you take to the skies in aid of Pilgrims Hospices. Soar through the air at speeds of up to 120mph strapped to the wing of a Boeing Stearman biplane! You'll take in the breathtaking views of the east Kent countryside from a birds eye view, all whilst raising much needed funds for local hospice care.
---
Dates
Saturday 14 May 2022 – registration now closed
Sunday 17 July 2022
Sunday 11 September 2022
Register now and secure your place!
The wing walk was a great, fun experience! To sum it up I would say, that if you have ever dreamt that you could fly, sign up to a wing walk for Pilgrims as it's the closest you'll get!

Wing walker, 2020
What do I need to do?
Taking on a wing walk for Pilgrims is as simple as paying your £40 deposit and pledge to raise at least £650 for local hospice care!
Deposits are non-refundable but will count towards your sponsorship target.
Can anyone take part?
Yes, anyone over 18 years old can do a wing walk. Experience isn't necessary. You'll receive all the training you need on the day and will have the opportunity to tailor your flight with the Pilot to either achieve the maximum adrenaline experience for you or a more relaxed flight.
For safety reasons, a few restrictions do apply:
If you're aged between 66 – 75 years of age, a GP's declaration of good health for their age is required.
Those with existing health conditions, and anyone over 40 years old, must sign a declaration of fitness in order to participate.
There is an upper weight limit of 85kgs (13st 4lb). You may be weighed during registration.
You can find learn about what to expect on the day and the wing walking criteria by visiting The Wing Walking Company's website.
Resources