Anthony Giles supports creative art event for Pilgrims Hospices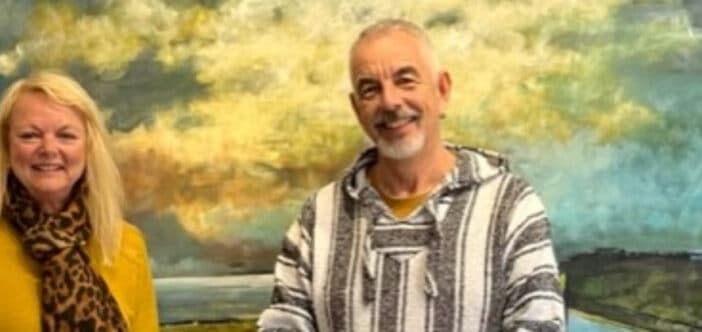 Local artist Anthony Giles, has generously offered his studio for Pilgrims to hold the 100 Pieces of Art charity auction, taking place on 1 July 2023. Anthony lives and works in Margate, surrounded by Turner's best skies in the whole of Europe.
---
Pilgrims are inviting budding artists of all ages and abilities, to submit their paintings, ceramic or sculpture art to create 100 pieces of art to be sold at auction to help support Pilgrims Hospices' end-of-life care.
Karen Kenward, Pilgrims Hospices Community Fundraising Manager said:
"Anthony has been involved with art events for Pilgrims Hospices over the years, and helped choose art for previous events. When he approached me last year, I was delighted; it's a lovely studio, and I'm very excited to be holding a Pilgrims art event in such a prestigious venue. Our charity constantly looks for innovative and interesting ways to engage with the local community and our supporters. I'm really hoping to capture the imagination of lots of local artists, and budding artists, to help us achieve our 100 pieces for the auction."
Anyone can submit an artwork, painting, drawing, ceramic or sculpture art; if you have a creative eye, we would love to see your work!
The auction will be held at Anthony Giles Studio, 3 Lombard Street, Margate.
The deadline for submissions is Friday 5 May 2023.
Please note: Paintings and drawings must be between postcard size 6"x 4" and 26"x 24", framed or unframed.
Viewing will take place between Tuesday 27 June and Friday 30 June, 10am – 4pm and Saturday 1 July, 10am – 12pm.
The auction will begin at 1pm on Saturday 1 July, with pre-event drinks and nibbles from 10am – 12pm.
Karen added: "Anyone can come along, so please do support this very special event; you can also make a bid prior to the auction, or on the day in person, or by telephone. This is a great opportunity to buy a beautiful piece of art, knowing that all profits from the art will help to support Pilgrims services."
For more information, or if you're interested in submitting a piece of art, contact Karen Kenward by telephone on 01843 233 934 or email karen.kenward@pilgrimshospices.org.
Auction catalogues will be available nearer the time of the event, costing £5 from Pilgrims Hospice Thanet and the Anthony Giles Studio, Margate.
---
Each year, Pilgrims supports hundreds of local people coping with a life-limiting illness and their families. The charity offers a range of services, from end-of-life care given on its wards, to its Wellbeing Programme supporting people after they are diagnosed to live well and stay independent.