A step in the right direction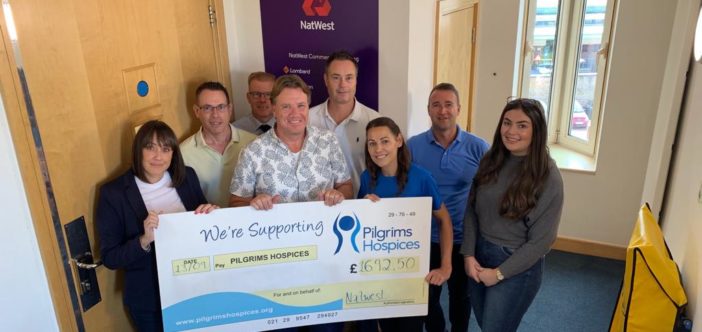 In Summer 2019 Natwest Commercial Team based in Maidstone decided to take on their very own challenge for Pilgrims Hospices. Step by step they came up with their own plan to walk 21km from Ramsgate Train Station to Deal.
---
They kicked off their fundraising, began their training and grew the team to 9 members strong.
Team captain, Charles Smith, said: "On the 26th July, the nine team members met up at Ramsgate Train Station to begin our 21km walk to Deal in support of Pilgrims. The 25th July was the hottest day of the year with a record temperature of 38.7 degrees Celsius being recorded across the UK so we were thankful of the storm that followed on Thursday evening bringing the temperature down. That being said it was still a hot and humid day as we walked along the south east coast with The Royal Hotel at Deal being the final destination."
Kate Duddell, Fundraising Manager, said: "When we were approached by Natwest Commercial Team who wanted to take on their very own challenge, we were thrilled to be supported by the whole team."
Charles added: "The Pilgrims balloons, unfortunately, didn't make it through the whole walk with one of them not making it out of the train station car park, fortunately, this wasn't a sign of how the team would fare on the walk itself! "
The team had a very much enjoyable morning and early afternoon with some beautiful views down by Pegwell Bay as well as some equally as attractive main roads and a "halfway" stop in Sandwich to reapply the sun cream and get a well-earned ice cream.
We would like to thank all those who have step by step raised an incredible £1,692.50!

Kate, Pilgrims
Charles also commented: "We also walked past the home of the UK Open 2020 with some of the team wishing they had signed up to play 18 holes instead before arriving on Deal seafront and having a sit-down or lie down for some. Twenty minutes after arriving in Deal, the heavens opened so not only were we thankful for all the support and money raised towards a fantastic cause, we were thankful for all the nagging given by the pace-setters in the group for getting us there just in time. Once again thanks to Pilgrims for all the fantastic work they do within east Kent and we hope the money raised can continue to support them with that work."
Kate added: "We would like to thank all those who have step by step raised an incredible £1,692.50 for end of life care in east Kent. The amount raised for hospice care is so valuable and will allow us to provide the best possible support to families who need us. Every £20 could pay for nursing care, either on our wards or in a patient's own home, so the funds raised through our communities own events, such as these are vital to the work Pilgrims Hospices does across east Kent."
---
Care is provided from three hospice sites in Ashford, Canterbury and, Thanet as well as in patients' own homes.  To offer these services to patients and their families the charity must raise £11 million each year from the generous local community.