Amazing skydive challenge for Rose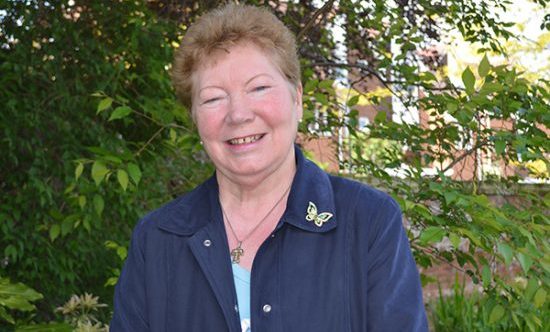 Super star fundraising volunteer, Rose Link from Tankerton On Sea Nr. Whitstable, is 76 ½ years young and will take tandem skydive on 28 July to raise funds for Pilgrims Hospices.
Rose is a regular volunteer at Pilgrims Hospice Canterbury and can be seen at most of the community supermarket collections chatting with the public and promoting the work that the charity does.
Her skydive is confirmed at Headcorn Airfield and she is funding herself in order that all the money she raises will be donated straight to Pilgrims Hospices.
"I decided to take on this challenge after reading about a much older gentleman who had undertaken a skydive and I thought this would be such an exciting challenge. My husband, Ivan, has shared the cost with me even though he was most certainly a little shocked and surprised." Rose told us.
She has been experiencing some nerves as the event draws nearer, however she's made good use of the information available at Headcorn regarding relaxation and training in order to enjoy the experience from leaving the plane until touching the ground safely.
Everyone has been so supportive and really encouraging.
"Everyone has been so supportive and really encouraging. I'm really quite excited." She added.
Deborah Kellond, Pilgrims Community Fundraising Manager said: "I would never have thought Rose would be the person to jump out of a plane!
Everyone has been so supportive and really encouraging.
As part of the volunteer team Rose particularly enjoys collection at supermarkets, distributing posters in the local community and also helps at many Pilgrims community events.
Rose said: "I was a fundraising volunteer for the Kent Air Ambulance for 8 years until 2012 when I took a rest. However, in the spring of 2013 I felt there was something missing in my life and decided to contact Pilgrims Hospice in Canterbury to talk about volunteering. I get involved with lots of fundraising activities and enjoying meeting people and making a contribution to such a valuable local charity.
If you would like to learn more about volunteers' opportunities for Pilgrims Hospices click here. For information on challenges and ways to raise funds for Pilgrims Hospices contact your local fundraising team.  If you would like to skydive for PIlgrims you can find out more just click Skydive.