Amy: "I'm a proud Palliative Specialist Nurse"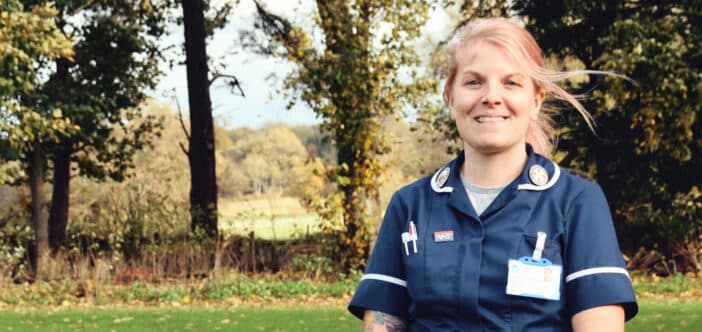 Amy Stevens from Westwell near Ashford has been a Palliative Specialist Nurse (PSN) at Pilgrims Hospices since July 2022.
Starting out her palliative care career on the hospice wards, Amy wanted to broaden her skillset; she now enjoys helping patients to receive holistic, tailored end-of-life care at every step of their journey, and empowering them to live well in each moment they have.
Amy shares what drew her to palliative care, and why others might like to consider a career at Pilgrims.
---
Dying is just as important as being born; if you feel the same, then Pilgrims is the right place for you. Here, you can support people in their palliative journey, making day-to-day life and symptoms more manageable, ensuring quality of life is a priority and engaging with patients and families to make decisions about their care. At Pilgrims, we aim to fulfil patients' wishes where possible, and provide compassionate, skilled palliative care to enable everyone to have a good death.
I qualified as a nurse in 2019, starting as a community nurse, where I found my passion for end-of-life care and care planning. I then worked as a ward nurse at Pilgrims Hospice Thanet for six months, before transferring to the Ashford hospice ward for a further seven months.
During this time, I developed my communication skills and my end-of-life and palliative care knowledge. I knew I wanted to push myself and play a more active role in helping patients to make decisions about their care, and support them with advance care planning. And so here I am, a proud PSN.
I am honoured to help patients voice their wishes and thoughts around death and dying; empowering them to find peace and have a good death.

Amy
I'm enjoying the autonomy of this role, working alongside the clinical team in the hospice and external healthcare professionals to provide the best palliative and end-of-life support that I can. I've been able to develop my communication skills further – from having difficult conversations with patients and families regarding diagnosis and prognosis, to reassuring conversations that help patients' wishes be heard and enable them to find peace.
It's fascinating to learn about the different symptoms involved in a palliative illness, recognising the signs of these and helping patients to control them through pharmacological and non-pharmacological treatments.
What is special about Pilgrims is that we have our own multi-disciplinary team to support patients with their social, physical, psychological and spiritual needs; this is an invaluable asset, helping us to provide the very best patient-centred care. The hospice is a relaxed and calm environment for both patients and staff. We work collaboratively, and everyone has the same goal – to give patients the high-quality palliative and end-of-life care that they need and deserve. Everyone is so compassionate, supportive and caring, and this is evident in how hard they work; Pilgrims feels like one big family.
I am honoured to help patients voice their wishes and thoughts around death and dying; empowering them to find peace and have a good death. Being able to provide support and reassure patients that we're here for them is one of the most rewarding and fulfilling aspects about being a PSN.
---
Inspired by Amy's story?
We're recruiting for a Palliative Specialist Nurse at Pilgrims Hospice Ashford. Click here to find out more and apply by Friday 2 Decemeber 2022.
Find out more about nursing careers at Pilgrims Hospices at:
---
Pilgrims Hospices cares for thousands of local people each year, free of charge, during the most challenging time in their lives. They offer care and support in people's own homes, in the community and in their inpatient units as well as running a 24-hour advice line.