The Big Conversation: A day-long arts festival on death and dying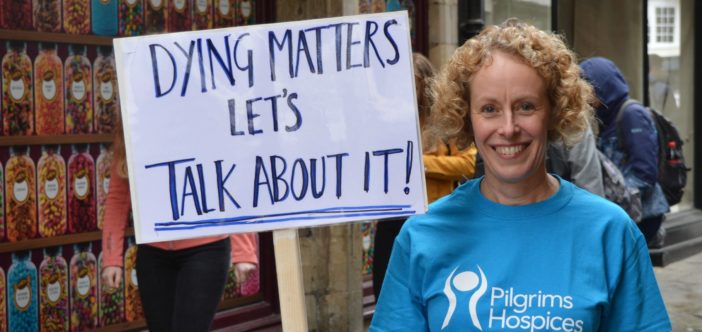 Pilgrims Hospices will host a mini arts festival on Saturday 18 May at its education centre on London Road, Canterbury.
It will bring together local community groups, artists, health professionals and businesses to run a series of interactive workshops, talks and information stalls, all designed to encourage reflection and conversation around death, dying and bereavement.
---
Talking about death and dying isn't easy, and yet for those of us who have ever planned a funeral, lost someone they really loved or been confronted by their own mortality, we know that not being able to talk about it can be even harder.
That's why the Pilgrims Hospices education team are hosting The Big Conversation, a day-long arts festival on Saturday 18 May that will bring together a range of local organisations and groups putting on a series of workshops, talks and an information fair, all designed to get people talking about death and dying.
The festival will form part of a wider national programme of events for Dying Matters Awareness Week 2019. This is a national campaign that aims to help people talk more openly about dying, death and bereavement and to make plans for the end of life.
The information fair will be open all day from 10am – 5pm and workshops are scheduled throughout the day at the Ann Robertson Centre, next door to the main hospice on London Road, Canterbury.
Find out more and book tickets
---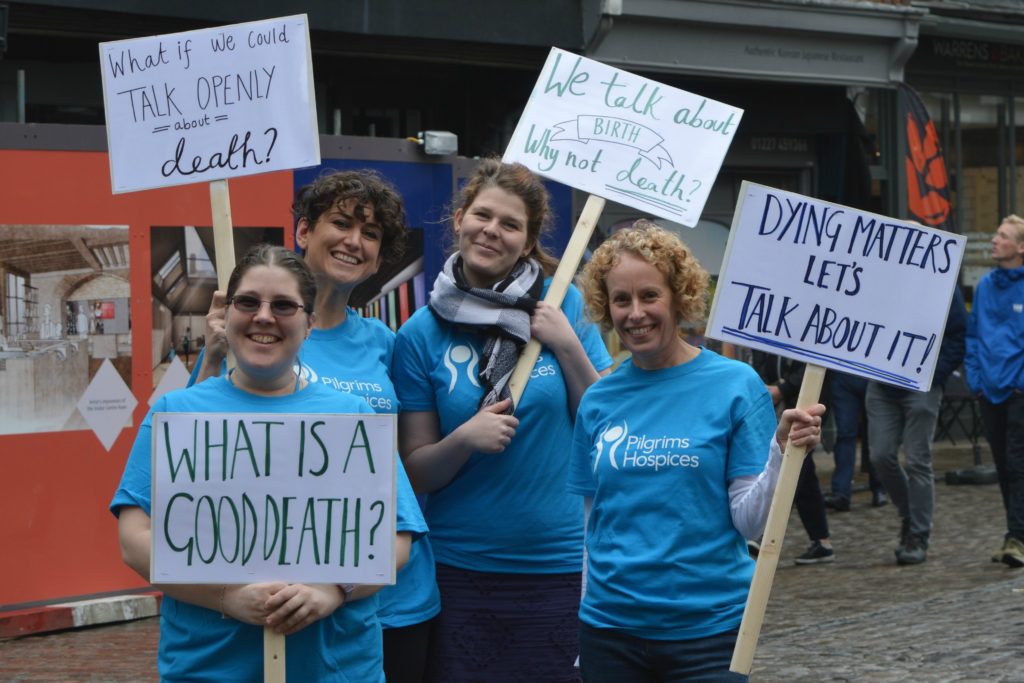 Come along to the information fair to meet and chat to representatives from:
Barham Crematorium – Local crematorium staff will run a stand to answer any questions or queries you have about cremation services.
Holly's Funerals – Contemporary funeral directors working throughout Kent and Sussex.
Ecoffins – Manufacturers of eco-friendly coffins and urns.
Essentially Hops – Family-run florist based in Bekesbourne.
Kent Natural Burials – Talk to representatives from local natural burial grounds.
Death doulas – Meet those working as death doulas who offer non-medical support to those facing the end of life.
Humanist celebrants – Conductors and writers of non-religious ceremonies including funerals.
Community nursing team – Meet the community nurses from Kent Community Health NHS Foundation Trust and find out about the support they can offer.
Boys & Maughan and Girlings law firms – Bring your legal questions and queries around wills, probate and power of attorney.
Pilgrims Hospices team and the Stepping Stones bereavement project – Find out about the support Pilgrims can offer to those living with a terminal condition and their families.
Entry to the information fair is free and staff and volunteers will be running a pop-up cafe at the education centre, selling teas, coffees and homemade cake throughout the day.
Wendy Hills, Director of Nursing and Care Services at Pilgrims Hospices, said:
"We want to engage with our local communities, using the creative arts to open up the conversation about death and dying. We hope that through our community engagement, we can help people to feel more comfortable in thinking about death and dying, and enable families, friends and communities to talk about their fears, beliefs and wishes."
Listen to Mandy Williams from Pilgrims' education team on Academy FM Thanet talking all things Dying Matters Awareness Week 2019:
The Big Conversation is kindly sponsored by Holly's Funerals.
Pilgrims Hospices host community events throughout the year for the general public, aiming to open up the conversation about death and dying; with film screenings, poetry readings and Death Cafes and much more, there's something for everyone.
Visit pilgrimshospices.org/timetotalk to find out more.
---
If you or someone you know is coping with a life limiting illness and you think you may benefit from Pilgrims free services, talk to your GP or Healthcare Professional about your options or click here to read about our Wellbeing and Social Programme.