Local fundraising group raises thousands for hospice care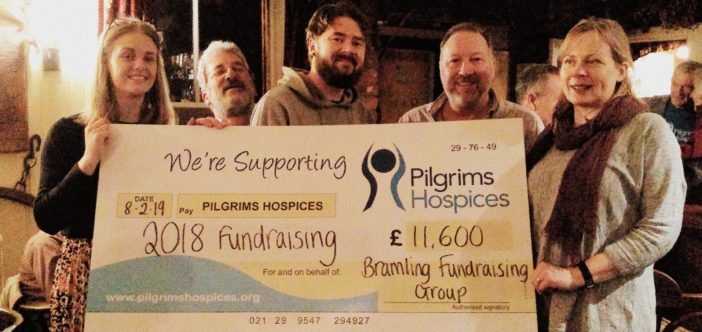 The Bramling Fundraising Group based in Canterbury has once again excelled in its fundraising for Pilgrims, raising £11,600 during 2018 for local hospice care and taking its total to over £78,000!
---
The group was formed in 2003 when locals Kim and Jo Tatman, who were new to the village of Bramling, decided to bring back some community spirit by organising a local village fete. Pilgrims was the local cause they chose to fundraise for.
Kim, Group Coordinator, said: "Bramling village didn't appear to have any events when we arrived and so between us and our neighbours we set about planning a village fete. It was clear that Pilgrims is a cause that is close to so many people's hearts so we knew it would be a deserving cause to support."
We are all determined to continue our support and we hope to reach the magic milestone of £100,000.

Kim Tatman, Bramling Fundraising Group
Over the last 15 years, their fundraising has grown and the variety of fundraising activities organised include race nights, produce shows, quiz nights, Elvis nights and lots more.
Leila Ilkhan, Pilgrims Hospices Community Fundraising Manager, said: "We are overwhelmed by the support that Kim, Jo and their friends in the Bramling Fundraising Group give to Pilgrims each year. It is great to see a community work together for one cause with so much passion and energy.
"As the group go into their 16th year, we hear that a skydive might be on the cards as well as sponsored runs, walks and garden parties!"
Kim added: "We are all determined to continue our support and we hope to reach the magic milestone of £100,000 in a couple of years."
If you are inspired by the Bramling Fundraising Group and feel that you would like to start a fundraising group in your local area, please get in touch with Leila Ilkhan for more information: leila.ilkhan@pilgrimshospices.org.
---
This year alone, Pilgrims Hospices has to raise £11 million through voluntary donations in order to run our full range of services. Sponsorship raised through events like these helps us to continue caring for local people at the end of their lives.