Brothers back in training for 100-mile Cycle Challenge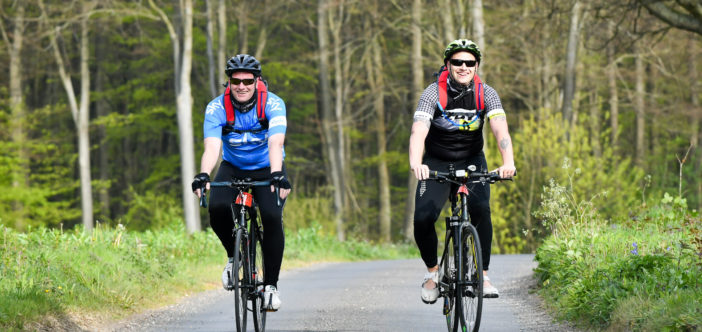 Two brothers from Kent are back in training for this year's Cycle Challenge, riding 100 miles to raise vital funds for Pilgrims Hospices after their dad, Dave, was cared for at Pilgrims Hospice Thanet last year.
First entering as Team Morgan in 2017, brothers David, Lewis and Kris are all keen cyclists. Last year they raised more than £1,000 for Pilgrims by completing the challenge. It was an extra special occasion for the family because their father, Dave Morgan, was there to watch them cross the finish line.
Dave was first diagnosed with colorectal cancer in 2010 and underwent an operation that left him with several health problems. "He never complained about anything and always had a smile on his face," recalls his son, David.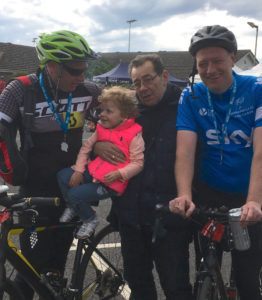 "He'd spent a few spells in the hospice when he had an acute pain flare-up and was always happy to see the staff, as they were always happy to see him. Dad was cheeky!"
In November 2017, Dave went to Pilgrims Hospice Thanet for pain relief. Due to complications he didn't return home; Dave passed away on 2 December 2017.
"The staff at the Margate hospice are exemplary. They were always willing to help and nothing was too much trouble. We were allowed to stay night and day, and we were always offered food and drinks."
David continued: "Shortly after Dad passed, my mum flew to Scotland to be with our aunt Diane who had ovarian cancer. She was also in a hospice and the staff were amazing there, too.
"My family lost Dad and Diane in the space of nine days. They were both treated with dignity and respect by all hospice staff; as a family we cannot ever repay their kindness and support at such a tragic time."
As a token of their appreciation the brothers decided to sign up for Pilgrims' Cycle Challenge 2018 and now Team Morgan is on its way to raising more than £500. Sadly, Kris can't join them this year, but the brothers will have the back-up of some good friends.
The staff at the Margate hospice are exemplary. They were always willing to help and nothing was too much trouble.


David
"At my father's funeral two of his work collegues said they wanted to take part in the challenge, as did two of my school friends who had known Dad growing up. He had more than 150 people at his funeral – it was amazing. With donations on the day, £730 was raised for Pilgrims."
And the brothers intend to carry on cycling and raising more money. David added: "As my youngest brother is unable to take part this year, I'm sure this means we'll all be doing it again next year!"
We wish David and his team the very best of luck on Sunday 6 May! Visit Team Morgan's Just Giving page to sponsor David, Lewis and friends.
If you'd like to sign up and cycle to raise money for Pilgrims, click here for more information and to sign up. We look forward to seeing you there!
---
 If you or someone you know is coping with a life limiting illness and you think you may benefit from Pilgrims free services, talk to your GP or Healthcare Professional about your options or click here to read about our Wellbeing and Social Programme.