Canterbury Medical Practices pedal for Pilgrims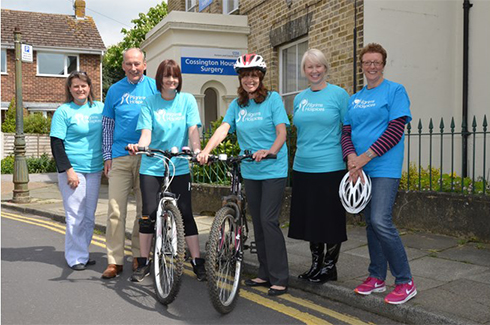 Friends and colleagues from medical practices across Canterbury along with hundreds of eager cyclists will take to the road on Sunday 30 April taking part in Pilgrims Hospices Cycle Challenge. The entry fees and supporter fundraising will help hundreds of people across east Kent coping with an incurable illness to access the support they need to live life well in every moment.
The medical practices team members consist of colleagues from Bridge Health Centre, Littlebourne Surgery, Cossington House Surgery and London Road Surgery. Team member Sandra Cook from London Road Surgery has recently set up a Just Giving page for the team and told us: "GP surgery staff are aware of the incredible support given to people who use Pilgrims Hospices and of the importance of the role within our community."
Many of the team have very personal reasons for supporting Pilgrims.
Reasons for getting involved with the challenge have been varied, aside from being a fantastic opportunity to see some of Kent's beautiful countryside and getting a healthy dose of exercise. Adds Sandra: "Many of our team have very personal reasons for supporting Pilgrims, many family members and friends have required hospice care and for that we are all very grateful. Whatever our reasons, we all hold the hospice close to our hearts."
One of the health care assistants who is normally on her horse rather than a bike has been putting everyone to shame by putting in the miles on her day off, she has persuaded her husband to lend her his road bike and there is no stopping her. The team has planned a couple of team training sessions, which include some of the hills on the actual route.
"As a group we are very keen and in fact we signed up a new member of the team last week, the poor man was visiting the surgery to complete an audit and happened to mention he had a bike!
"We are also keen to fundraise. We have collection boxes and sponsor forms at each of the four surgeries so that patients can support us and a couple of colleagues are baking cakes to sell to other members of staff to raise more money." Sandra told us.
This is going to be an amazing cycling event.
Theresa Samworth, Pilgrims Fundraising Manager said: "This is going to be an amazing cycling event. There are over 800 cyclists already registered and with the support of our new start venue at Kent University Canterbury, we can offer our supporters a truly memorable experience. You can choose from three ride distances and take advantage of the cycle village on return with Dr Bike mechanics, sports massage, local cycling interest groups and more."
If you have been inspired to get on your bike for Pilgrims Hospices, please sign up for the Cycle Challenge.
If you or someone you know is coping with a life limiting illness and you think you may benefit from Pilgrims support, talk to your GP or Healthcare Professional about the options or read about our Wellbeing and Social Programme.