M&S Charity of the Year campaign raises vital cash for Pilgrims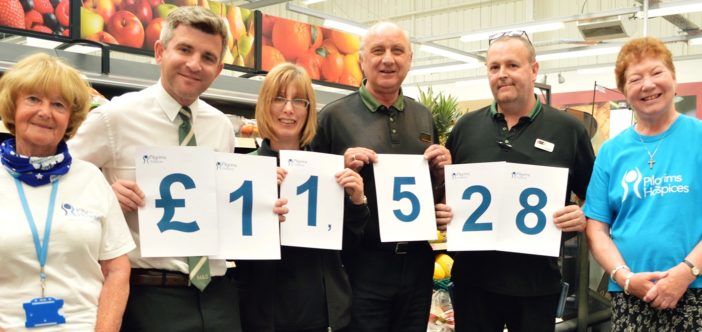 Staff and customers at Marks & Spencer Canterbury Maybrook Simply Food have donated more than £11,500 to the Pilgrims Hospices charity this year. The fundraising and catering teams, along with some regular Pilgrims volunteers, visited the store to thank them for the amazing donation and for nominating them as Charity of the Year for 2017/18.
---
Alex Dobson, Marks & Spencer Operations Manager, said: "We support a local charity each year, our staff submit nominations and the most popular is selected.
"Our staff were very keen to support Pilgrims; many of our team have a personal connection to the hospice and value the services the charity offers."
Pilgrims volunteers Elaine Newman, Dan Baker and Rose Link are regulars on in-store collection days. Elaine said: "We love this store and enjoy coming here on collection days.  The staff are always friendly and welcoming and customers really appreciate the work we do."
We love this store and enjoy coming here on collection days.

Elaine Newman, Pilgrims Volunteer
Lydia Todd, Community Fundraising Officer at Pilgrims Hospice Canterbury, said: "It's such a huge fundraising total; we're delighted that M&S has supported us this year. Not only with the in-store collections and additional till collections, but they also make an enormous contribution in food donations for our hospice kitchens.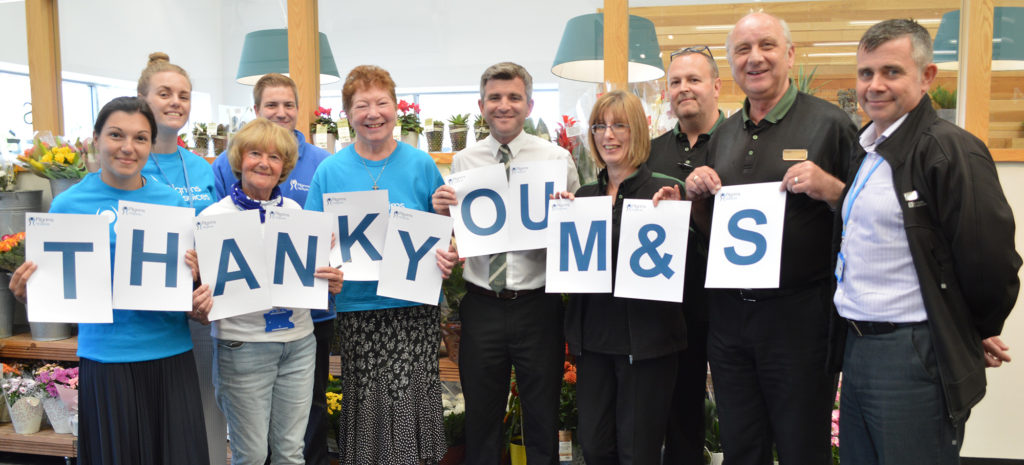 Ian Ashton, Pilgrims Hospices Catering Manager, came along to thank Alex and his team and said: "The generous food donations allow my catering team to provide a wide variety of meals for patients, helping us to be flexible and meet individual needs in the most effective way.
"Our chiller van collects and delivers the gifted products to the hospice, where they can be frozen or stored and planned into menus.
"Pilgrims catering team work with tight budgets; the support from M&S helps us to provide perfect nutrition and variety for patients.
"The sweets, tins and flowers generously given are also used to support fundraising activities like our Vintage Tea and Fair that will take place in Westgate Gardens, Canterbury on Saturday 21 July."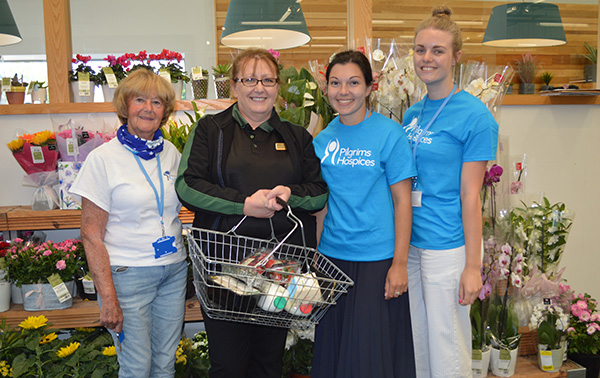 Lydia explained "With the generous support of the community and local businesses we can continue supporting the many patients, families and their friends who need our help in such difficult times."
If you'd like to make a contribution or help to support local hospice care, Pilgrims would love to hear from you.
Please contact Pilgrims Hospices fundraising team in the first instance, who will be happy to help or guide your enquiry.
---
Pilgrims Hospices provides care from three hospice sites in Ashford, Canterbury and Thanet as well as in patients' own homes. To offer these services to patients and their families the charity must raise £11 million each year from the generous local community. Find out about the wide variety of service Pilgrims offer.