Colour runners brighten up coast raising vital funds for hospice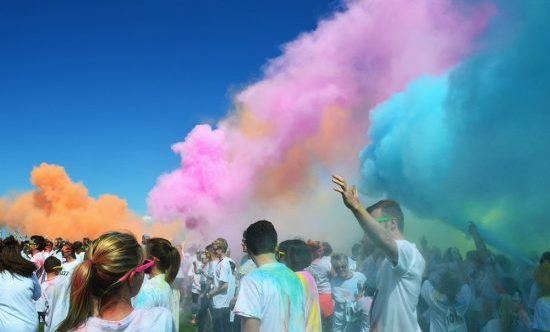 An excited crowd brought a fun blast of colour to Thanet this Sunday for the Pilgrims Hospices Colour Run.
Over 1,200 adults and children gathered in colourful glasses and white tee shirts for the 5k run along the coastal route of Palm Bay, Clintonville, and Margate.
After a fun warm up and a big countdown, the event kicked off with a huge blast of colour. The crowd ran, jogged and walked through brightly coloured paint clouds, which drifted out from two huge colour stations.
Among the runners was Andy Aldworth from Margate who ran in memory of his nan, Joan Jones, who was cared for by Pilgrims: "I decided to do the Colour Run in memory of my nan and also to get fit. I wanted to do my bit to raise money for Pilgrims as they do a magnificent job. I also achieved my personal best time; the best part of the day was the amount of people who turned up and gave me encouragement to keep going."
Emma Roberts from Deal ran for her brother, Mitch, as part of 'Team Mitch': "Mitch was cared for by Pilgrims in January 2017. He was a colourful and fun character to the end, so Colour Run is the perfect event to honour his memory."
Karen Kenward, Community Fundraising Manager for Pilgrims Hospices, said support for the event had exceeded everyone's expectations: "This is the second Colour Run we have held and it's been such a popular event.
The atmosphere is just unbelievable, with colour and laughter all the way. We are still counting everyone's sponsorship money but already we have raised more than £20,000 and that figure is set to grow. A huge thank you to everyone who took part, raising vital funds for the hospice."
The atmosphere is just unbelievable.
Each year Pilgrims supports more than 2,300 local people coping with a life limiting illness and their families. The charity offers a range of services: from its new wellbeing and social programme supporting people after they are diagnosed to live well and stay independent to the expert end of life care given on its wards.
The Colour Run was supported by a host of generous local organisations whose support means that even more money will go to help provide this care. Thanks go to: Your Leisure, Howdens, Westwood Cross Shopping Centre, Bookers Cash & Carry, Raynet, Thanet Council, Copy Shop, Pete our DJ , Bek from Beks Fitness, Bex from Your Leisure, Raffles the Bear, all the staff and volunteers who helped make the event possible.
A date for your diary – If you missed this amazing event and would like to join in the next crazy event, why not sign up for It's a Knockout on Sunday 9th July. Choose you venue, Ramsgate or Faversham, we would love to see you there.
Pilgrims care is provided from its three hospice sites in Ashford, Canterbury and Thanet as well as in patients' own homes and through its three Therapy Centres. To offer these services to patients and their families the charity must raise £11 million each year from the generous local community.