Community volunteer Tommy brings Gentle Mindful yoga to Pilgrims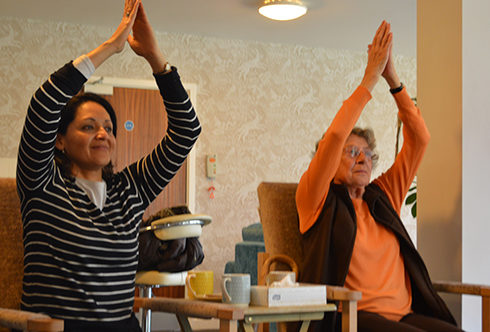 Gentle mindful yoga is the order of the day in Pilgrims Hospice Canterbury Therapy Centre on Wednesday mornings.
Volunteer yoga teacher Tommy Banks is supporting with Pilgrims Wellbeing and Social Programme to help patients slow down stress, promote peacefulness and a better state of health and wellbeing.
Tommy who is originally for Arizona USA now lives in Herne Bay. His special gentle mindful yoga has helped hospice patients by providing breathing, stretching, strengthening mindfulness and relaxation techniques.
It's a very calming experience.
Tommy said: "I'm very happy to help with some simple yoga at Pilgrims Therapy Centre, it's wonderful to involve people who don't normally have a chance to enjoy good company and relaxation. It's a very calming experience."
Martyn Yates, Pilgrims Hospice Complimentary Therapy Lead said: "It's lovely to see our patients taking part in the yoga sessions. It's simple to do and everyone can get involved, there's no need to leave the chair, just a chance to improve breathing and clear the mind in a supportive and safe environment."
It's simple to do and everyone can get involved, there's no need to leave the chair.
Every hour and every minute of volunteering for Pilgrims Hospices is hugely valued and goes a long way for the people needing our care.
Our volunteers play a part in every aspect of life in our hospices: they offer support, skills, kindness, care, raise money; they can be a friendly face helping in our shops and working on our receptions. By generously giving their time, volunteers support our staff as they work to provide the outstanding levels of care for which we are well known.
If reading about Pilgrims huge community of volunteers has inspired you to find out more about our current volunteering opportunities then click here. You can also download our fundraising pack here. 
If you or someone you know is coping with a life limiting illness and you think you may benefit from Pilgrims support, talk to your GP or Healthcare Professional about the options or visit Pilgrims Hospices website Wellbeing and Social Programme.