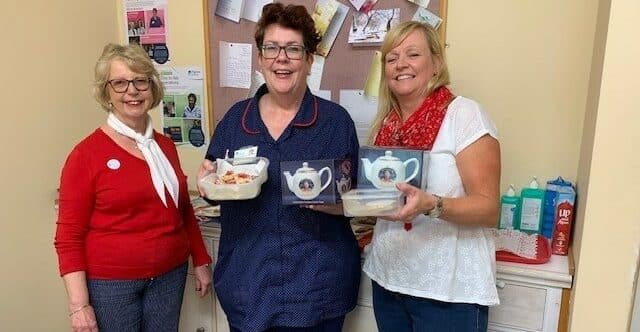 It was with great pleasure, Pilgrims Hospices sent congratulations to His Majesty King Charles III and Queen Camilla on their Coronation, which took place on Saturday 6th May 2023.
Along with thousands of organisations across the country, Pilgrims celebrated with colleagues, volunteers, patients and their families, to wish the new King and Queen good health and strength to continue with their valuable support for charities across the UK.  We hope their roles continue to reflect the needs of people now, and in the future, while keeping the longstanding  traditions and pageantry that we treasure.
We wanted our patients and visitors to share in the experience of the Coronation, so decked the reception areas, and corridors around the hospices with union jack bunting. Floral tributes to their Majesty's reflected in red, white and blue, greeted people upon arrival at the hospices, in Ashford, Canterbury and Thanet.
Staff baked cookies for a Coronation competition, took afternoon tea prepared by volunteer bakers, and the catering teams provided Coronation cupcakes for everyone throughout the celebration weekend.
The Wellbeing team took service users art therapy sessions to the next level, with amazing regal paintings displayed across the hospice sites.
Our services, like those of our Monarch, are also deep-rooted within the community, and whilst we've shared in the celebrations, we've also reflected on our own important values.  The selfless work of our Founder and lifelong President Ann Robertson OBE, has brought us to the point where we can care for thousands of people each year, who need end-of-life care and support.  Visionary local nurse Ann wanted to make a difference for the people in her community facing terminal illness.  Her passion to raise awareness and services, launched the charity more than 40 years ago. Thanks to her devotion, and the help of countless others, today we have almost 200 clinical staff. Together, they support thousands of people each year.
CEO Helen Bennett said: "Queen Elizabeth, The Queen Mother, opened the hospice in Canterbury on June 8th 1982.  We at Pilgrims' are very proud of our royal connection, and have delighted in watching her grandson's investiture in Westminster Abbey. Everyone at Pilgrims made an extra effort to make the celebration weekend special for our patients, visitors, and the care teams who worked tirelessly throughout the holiday weekend."
Pilgrims staff, volunteers, and trustees, old and new, wish to send our warmest wishes and congratulations to King Charles III and Queen Camilla on their splendid day.