Cousins complete gruelling marathons to raise £6k for Pilgrims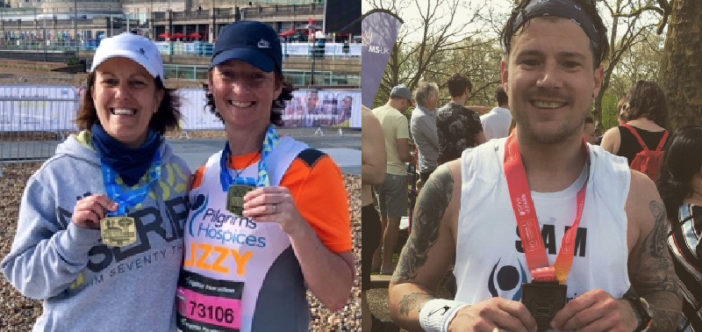 Running and raising money goes hand-in-hand for Liz Boatman and Sam Parker. The cousins have just completed the Brighton and London Marathons, raising more than £6k between them for Pilgrims Hospices.
Liz (pictured centre) is a Healthcare Assistant at Pilgrims Hospice Canterbury and a keen runner, having previously run the London Marathon three times. This year, Liz missed out on taking part in the London Marathon so took on the Brighton race instead, running alongside colleague Sarah Martins, Senior Ward Sister at the Canterbury hospice (pictured left).
Liz said: "I've worked for Pilgrims for just over a year now and every day I see the difference that fundraising and donations make to patients and their families; without that, we wouldn't be able to do what we do.
Liz says she has always been sporty and trained hard for the event, but the weather made it a tough run. "The beginning of the day was lovely – mild and dry. Then it got hot and hilly which was really hard. Then, as we got towards the end, the weather turned wet and chilly!"
In spite of the conditions, Liz and Sarah finished strong: "We crossed the line with our hands raised together, with our families there to see us. It was a fantastic day and very well organised." Between them, Liz and Sarah have raised around £3,000.
Sam Parker, from Herne Bay, also has a personal connection with Pilgrims and, like his cousin Liz, he loves to keep fit. Sam decided to fundraise after his father, Derek Parker, was cared for by Pilgrims Canterbury in 2014.
"I experienced first-hand the incredible and essential work Pilgrims offers to patients and their families," explains Sam. "It's been my pleasure to give back to the organisation at any opportunity I can."
And Sam has given back in spades. In March he held a charity quiz night, raising a total of £1,767. The following month he completed his first London Marathon which was the hottest on record. Many runners couldn't finish due to soaring temperatures, but Sam soldiered on.
"I knew I'd trained hard and so didn't expect the heat to affect me as much as it did – silly mistake! There were plenty of tough times during the second half, but the atmosphere and encouragement on the day kept me hanging in there."
Sam says he couldn't have done any of the fundraising without the support of family, friends, colleagues and local businesses. "I've been surprised and really humbled. They've been amazing, both generous in donations and supportive in fundraising activities, and helping out any way they can."
Sam raised a staggering £4,554.11 in total and has put his name down for next year's race. Liz isn't hanging up the running shoes either and will soon take part in  the Leeds Castle Triathlon with Sarah and the Paris 10k.
"For as long as it's feasibly possible, I'll do what I can to help Pilgrims from all angles," concludes Liz.
Feeling inspired?
We'll be accepting applications for next year's London and Brighton Marathons until October 2018.

---
 If you or someone you know is coping with a life limiting illness and you think you may benefit from Pilgrims free services, talk to your GP or Healthcare Professional about your options or click here to read about our Wellbeing and Social Programme.