Fantastic fundraiser Eleanor raises over £5,000 for Pilgrims Hospices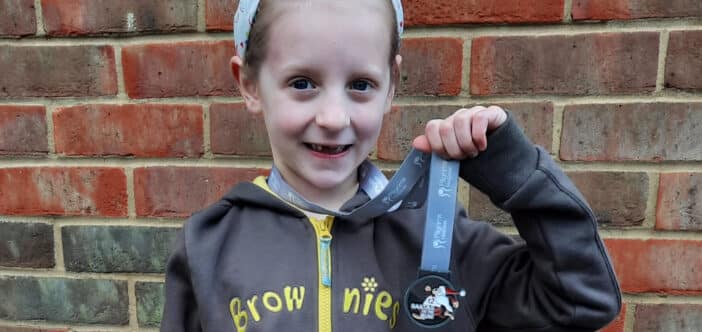 Eleanor Davies from Ashford hopes to inspire other children to fundraise for charity. Aged just 7-years-old, Eleanor recently raised an incredible £5,401.01 for local hospice care.
---
Eleanor raised funds over the festive period in 2022 and also took part in Santas on the Harbour! in December 2022 with her mum, Charlotte, who is a Trainee Advanced Clinical Practitioner at Pilgrims Hospices. 
Eleanor and Charlotte at Santas on the Harbour! 2022 in Folkestone
Young fundraiser Eleanor said: "I wanted to fundraise for Pilgrims because it's kind and thoughtful to raise money for people who help others who are poorly. It means they can buy some new equipment for people to use. My mummy works at the Ashford hospice and she tries to help people feel a little bit better. I think everyone who works at Pilgrims is fantastic!"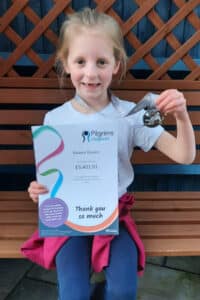 Eleanor continued: "I was so proud that I wore my medal to school! I have just joined Brownies, and the fundraising goes towards my Charities badge, which is very exciting." 
"I want to say an enormous thank you to all my family and friends who donated and sponsored me and came to Folkestone on the day of the run, to cheer me on! It was really tiring, but so much fun and I would love to do a Pilgrims run again. I would also like to say thank you to Pilgrims for all the amazing work they do and for letting me run for them. I am very proud of my mummy for what she does."
Charlotte added: "I'm so proud of Eleanor; I see first-hand how the money can help people. At 7-years-old, to have raised £5,401.01 is absolutely fantastic and for Eleanor to want to fundraise again is just amazing. She is already asking about her next challenge! Thank you to her sponsors for their generosity. We hope that her story inspires others to fundraise for charity."
---
Pilgrims Hospices cares for thousands of local people each year, free of charge, during the most challenging time in their lives. They offer care and support in people's own homes, in the community and in their inpatient units as well as running a 24-hour advice line.