The love of flowers brings people together.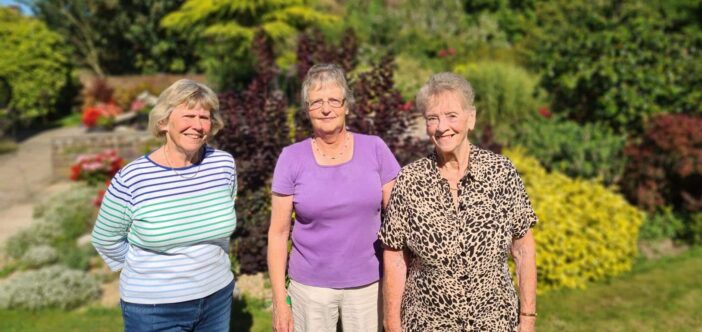 L-R: Volunteers Janet, Viv, Carol
Volunteering in the hospice often brings like-minded people together who share similar passions. This is definitely the case when it comes to volunteers and friends Viv, Carol and Janet who are the Pilgrims Hospices Canterbury flower arrangers. 
---
The group of ladies who met at the Canterbury hospice have been volunteering since 2018 and they have dedicated a combined total of 15 years to the charity. They started arranging their beautiful displays on site with the aim to bring colour and smiles to the patient and family areas.
Former nurse Viv Said: "We all love flowers and arranging and we wanted to bring something to the hospice to give patients and visitors some comfort. People think that hospices are depressing places, but we want to remind people they can be a happy bright place."
We hope that the flowers brighten everyone's day

Volunteer Viv
"Carol is a Chelsea Flower Show Gold Medal winner so she's the real expert! But we really enjoy getting together to make the arrangements and to help the hospice. We hope that the flowers brighten everyone's day."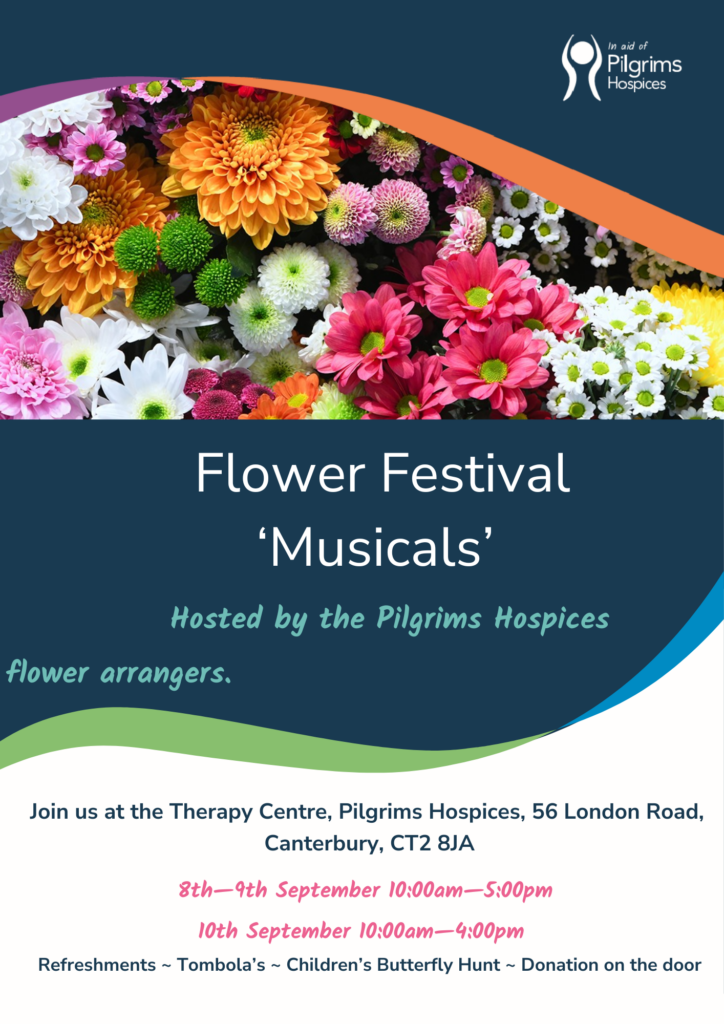 The talented trio very generously source all their own flowers to make the arrangements, as Viv explained: "We see it as our donation to the hospice and our way of helping add something to all the wonderful care that's carried out here."
The group's dedication to the hospice doesn't stop there as they're currently busy organising a three day Flower Festival with the theme 'Musicals' which they are holding at the Canterbury hospice next month.
There will be over 20 beautiful flower displays in the garden areas and Therapy Centre kindly created by their friends and network of arrangers from the National Association of Flower Arrangement Societies
The Flower Festival will take place on 8-10 September from 10:00 – 17:00 (16:00 on Sunday 10).
Donations on the day very welcome and there will be refreshments to enjoy, a tombola and a Children's Butterfly Hunt to keep the little ones entertained.
Please note parking is limited.
If you have any questions about the Flower Festival or Volunteering please email: fundraising@pilgrimshospices.org. 
---
Each year, Pilgrims Hospices give care and comfort to thousands of people in east Kent who are coming to terms with an illness that sadly cannot be cured. The charity support patients to live life as well as possible until the very end, free from pain and distress.