Fun and friendship: Why Anne and Reg Pritchard love to volunteer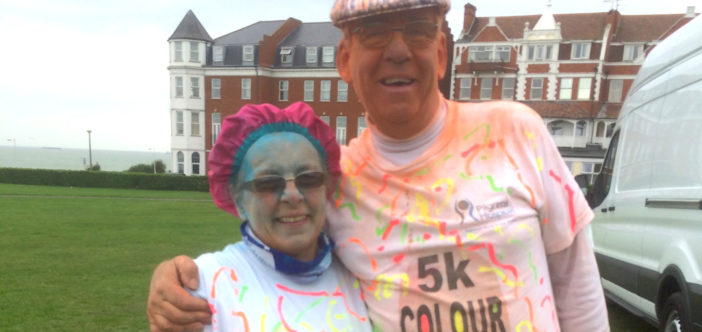 Volunteers' Week is over for another year but all the hard work and fun will go on. Thank you to all of you who made it such a success! There's been a lot of interest in our new volunteering positions, so if you're thinking about getting involved but are still not sure, read on to find out why you should…
Anne and Reg Pritchard have been married for more than 40 years after meeting in Ursuline College, Westgate-on-Sea. The couple have always volunteered and through Pilgrims they've found plenty of fun and friendship.
Anne explains: "Before Pilgrims we'd volunteered with other charities and then, back in the early 1990s, we got involved with fundraising events to support the building of the Thanet hospice. We met John Rayment [former Pilgrims director] whose passion, enthusiasm and determination to get Thanet Hospice up and running was so infectious that we wanted to help as well. That was the start of our Pilgrims Hospice volunteering journey."
Anne joined the hospice when it opened in 1992 as a cook supervisor and Reg, a carpenter by trade, continued working at Ursuline College. Then in 1999, illness changed their outlook on life. Reg retired not long after and threw himself into volunteering with Pilgrims. Today, Anne is a Volunteer Coordinator and Reg takes on a wide range of different roles.
"The satisfaction and pride we both get from helping at the hospice is hard to put into words. I think the event we will never forget is the 2016 Colour Run – a hospice first. What an event, seeing all those people coming towards us willing you to cover them with paint. It was awesome and unforgettable!"
The Pritchards' passion for fundraising events has never waned; most recently Reg has set himself a challenge to find an outfit for a Night to Shine to "add a sense of fun".
"We take pleasure in helping at events with the knowledge of all the hard work that has been put in to set the event up," explains Anne.
As well as putting the fun into fundraising and volunteering, the Pritchards have also experienced Pilgrims' care first-hand – Anne's mum was cared for at Thanet hospice.
Anne continues: "Like all our patients, mum was treated with dignity and respect and second-to-none care. The hospice becomes your extended family with all the support we received for the whole family.
"We have made many friends through volunteering. There are so many new roles undertaken by volunteers now. The changing role of the volunteers has helped the very foundations of the service we provide today to evolve. We look to the future with enthusiasm and anticipation."
Karen Kenward, Pilgrims' Community Fundraising Manager, comments: "Anne and Reg really are an asset to Pilgrims Hospices; nothing is never too much trouble for them, they help out at many events, from helping to prepare 1200 rolls for the Cycle Ride to supporting our Colour Runs.
"They bring fun and laughter all the way. We are so very lucky to have their support, I really do not know where they get all the energy from. I am very proud to have them part of Team Thanet."
Feeling inspired? Visit our Volunteers' page to find out more and don't forget to check out the latest volunteering opportunities. We're now celebrating National Carers Week 2018 (11-17 June)! We recognise that carers play an essential role in each patient's journey, and we believe they should be supported throughout. Join with us here and on social media to recognise all the incredible things carers do and discover how they are an important part of #PilgrimsLife.