Funtastic Colour Run fundraiser for Pilgrims Hospices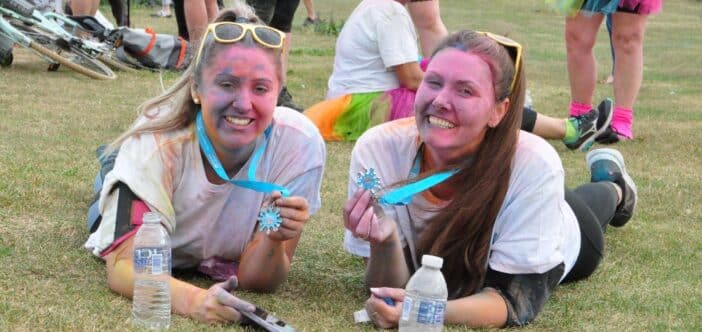 Was a funtastic success for Pilgrims Hospices as the Thanet 5K Colour Run took centre stage at Palm Bay, Cliftonville, Margate on Sunday, October 1st, 2023. With over 400 Pilgrims Hospices supporters participating and raising an impressive £200k plus in the seven years the event has taken place for hospice end-of-life care in east Kent, it's clear that the event made a significant impact.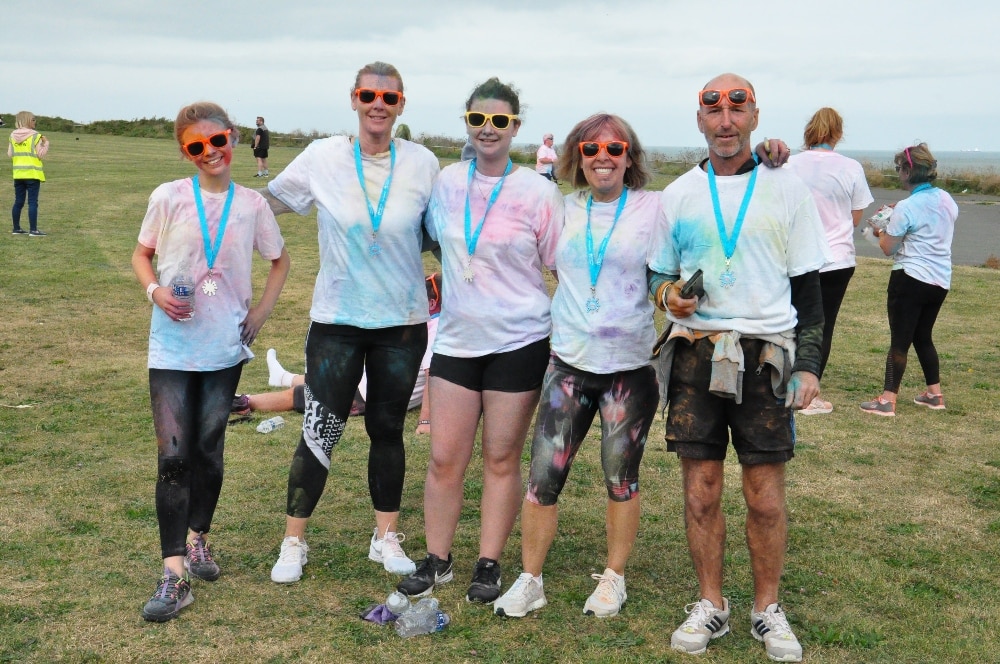 Karen Kenward, Pilgrims Hospices, Community Fundraising Manager, and the entire team deserve commendation for their hard work and dedication in organising such a successful event. It's heart-warming to see the community coming together on a spectacular day in Cliftonville.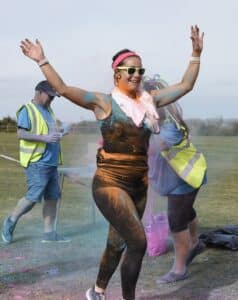 It was exciting to see families and friends coming together to enjoy a super fun day while also supporting a local charity. The fact that the weather was spectacular only added to the joy and vibrancy of the occasion.
A brilliant way to kick off the Colour Run event was with fitness expert Jennie who did a fun warm-up for all. The dynamic and energetic warm-up session was full of fun dance moves, and prepared everyone for the colourful and exciting spectacle ahead. With cool dance music playing, participants were encouraged to move, stretch, and get their hearts pumping, creating a lively atmosphere.
Karen said: "The money raised today will undoubtedly go a long way in providing crucial support and care for those in need in the community. The Thanet 5K Colour Run is not only a fantastic way to raise money but also a beautiful example of how communities can unite for a great cause. A huge 'High Five' to everyone who supported us on the day, and here's to many more successful events in the future!"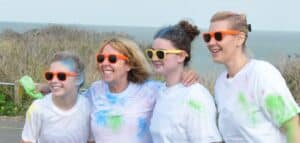 Karen added: "I would like to take the opportunity to say a huge thank you to our sponsors –  Thanet Earth, Stagecoach, Copyshop and Mini Stores in Deal. Also, thank you for the support of Margate Ambulance, Academy Radio, Isle of Thanet, Frank Leppard for his incredible photos, Charles our DJ, and Kerry on the drone, and lastly to the Pilgrims staff and volunteers who help me to make this event so special.  I think I can truly say we've all had a real colour blast of a day today and we couldn't run the event without everyone's wonderful support, thank you all once again!"
A huge 'High Five' to everyone who supported us on the day, and here's to many more successful events in the future!"
Other promos for future events.
Look out for our Christmas Tree Recycling event in the new year 5th – 8th January 2024 and please do follow us on our Pilgrims Hospice Thanet Fundraising for all our events, including the smaller evenings out!
To register your real Christmas Tree go to: www.pilgrimshospices.org/treerecycling
---
Each year Pilgrims' gives care to thousands of people across east Kent. Care is provided from three hospice sites in Ashford, Canterbury and Thanet as well as in patients' own homes.  To offer these services to patients and their families the charity must raise approximately £11 million each year from the generous local community.