Bus driver on the run for fun!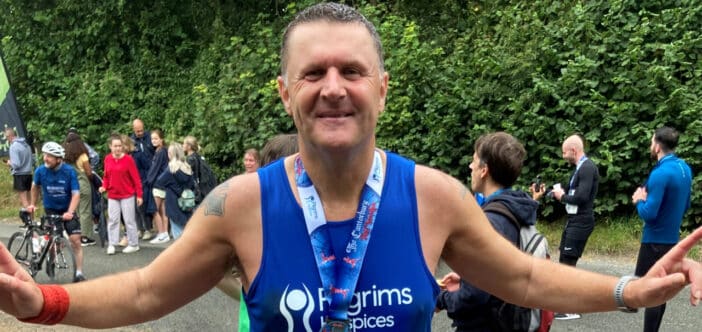 Garry Warren, (53) from Garlinge in Margate is a super fundraiser with a number of ½ marathon and marathon medals in his collection, including the world-famous London Marathon; he's raised £1,000s for local charities over the years.
---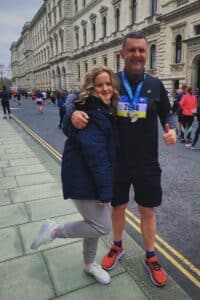 Garry and his youngest daughter Emma will be supporting his much-loved charity, Pilgrims Hospices with a change of pace when they take part in this year's Thanet 5k Colour Run in October to raise important funds for hospice care.
Bus driver Garry, has colleagues from Stagecoach Westwood Cross Bus Garage taking on this fun event too. Garry said: "I've been a bus driver for 27 years, and my colleagues and fellow bus drivers have always been generous with their donations and support, I'd like to thank them, their help has been a huge part of my fundraising achievements over the years. I'd especially like to thank my great friend and colleague Dave Irving, who does so much to help me with my fundraising.
"I understand how important Pilgrims Hospices care is within the community, some of my colleagues have received care from the hospice. After receiving a cancer diagnosis, Pilgrims helped to manage their pain and provided support at the end of their lives."
Originally from South London, family man Garry who has two daughters, Emma (13) and Katie (23), moved to Margate 12 years ago and said: "I definitely made the right move, my family and I love our local life. People are so friendly and we've settled and enjoy life away from the hustle and bustle of London.
"I've always been a keen runner ever since I was a teenager, and over the years, I've raised around £10,000 for local charities including Pilgrims Hospices. My generous friends and colleagues have supported my fundraising and I try to find some interesting and quirky ways to gain their support. Sometimes, if I'm planning to run with a friend, I will ask them to guess the gap between our finishing times, this usually achieves some laughs and keeps us going right through to the end of the run.
"My daughter Emma and me will be taking on all the fun of the Thanet 5k Colour Run and we hope to get well and truly colour splashed on our way around the route. I also have some Stagecoach colleagues who are taking part too."
Why not join Garry and Emma and have the best Colour Run fun on Sunday 2 October? You can walk, jog or run the event, it's all about the fun of taking part. As part of your registration fee, you will receive a white T-shirt, paint sachet and fun protective specs, the rest is up to you to go and have fun!
After checking in on the day, the event gets started with some fun warm-up music and then an amazing colour blast to start those taking part on their colour journey.
You can register today at pilgrimshospices.org/colourun run or contact Karen Kenward for more information:
Early Bird entry is available until Sunday 31 July 2022 and standard entry closes on Monday 26 September 2022, so sign up soon to save some pennies!
See you there!
---
Pilgrims Hospices cares for thousands of local people each year, free of charge, during the most challenging time in their lives. They offer care and support in people's own homes, in the community and in their inpatient units as well as running a 24-hour advice line.