Green fingers grow sunflowers for Pilgrims Memories Appeal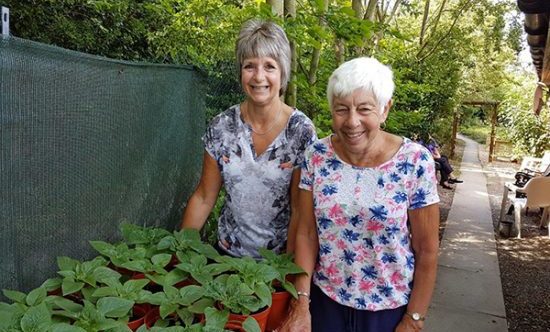 Volunteer gardeners Isobel and Carol have been busy planting and carefully tending the young sunflowers in readiness for Pilgrims Sunflower Memories remembrance appeal later this month. All of the plants, compost and pots have been generously donated by Jackie Young, owner of Westgate Garden Centre.  Sunflower Memories, now in its fourth year, is a beautiful way to celebrate the life of someone you love whilst supporting Pilgrims Hospices.  In return for a donation, a sunflower memory marker with the name of your loved one written upon it will be placed in the Pilgrims Hospice garden of your choice to form a sunflower celebration.
300 sunflowers are being grown by Pilgrims gardeners and volunteers for supporters to purchase at hospice receptions and at the Sunflower Memories events.  The events will take place on each of Pilgrims Hospices sites in Thanet, Canterbury and Ashford on weekend of 29th July where supporters can share their memories, enjoy an afternoon tea and cake and gentle music in the knowledge their support will be providing care for many other patients, families and their friends in east Kent.
Jackie from Westgate Garden Centre said:  "It has been a great pleasure to provide Pilgrims Hospices with the products and seeds for the appeal. So many of us have known someone who has needed Pilgrims support over the years, I'm proud to be part of this valuable appeal.  When Sara Scriven from the hospice approached me for my help I didn't hesitate to agree."
Last year our appeal raised almost £28,000
Pilgrims Individual Giving Manager, Sara said: "Last year our appeal raised almost £28,000 for Pilgrims care, we hope our generous supporters will help us to continue our work by donating again this year. Each £1 donated to this appeal helps to provide care for over 2,300 people who need our care at home in or in one of the hospices."
It's very easy to make a sunflower dedication or just donate to our appeal by clicking donate, by calling our Supporter Relations team on 01227 782062 or by collecting a form from one of Pilgrims shops.
"We welcome everyone to come and view the sunflowers on display.  We hope it helps our supporters to strengthen those cherished and happy sunny memories.  Supporters are welcome to take their sunflower memory marker home after the event." added Sara.
Each year Pilgrims supports hundreds of local people coping with a life limited illness and their families.  The charity offers a range of services: from end of life care given on its wards, to its Wellbeing and Social Programme supporting people after they are diagnosed to live well and stay independent.  Care is provided from three hospices site as well as in patients' own homes.