Hospice nurse Sarah kicks off birthday bucket list with Divas Cycle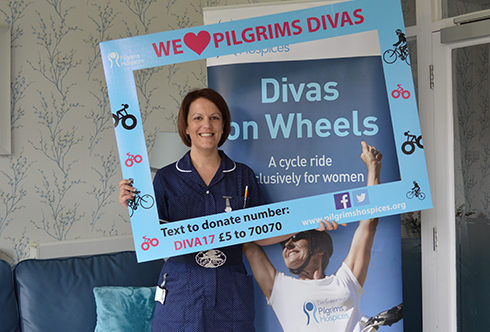 Sarah Martins, Senior Ward Sister for Pilgrims Hospice Canterbury will be challenging herself throughout the coming year with a variety of tasks and fundraising activities starting with the exclusive ladies cycle ride Pilgrims Divas on Wheels, on Sunday 18 June.
Sarah said: "I will be 40 years old next year and I've been thinking 'lets live life to the full' and push myself to achieve some amazing goals."
Having always been interested in palliative care, Sarah joined Pilgrims Hospices 3 ½ years ago as Ward Sister at Pilgrims Hospice Ashford, now based in Canterbury as Senior Ward Sister; she works closely with inpatients and patient care within the community.
"I have personal experience of the patient care offered at Pilgrims, my Mum was cared for here 10 years ago.   I feel very privileged as a Pilgrims nurse to be part of the precious care offered to patients and families when they need it most."
Sarah's husband David cycled Pilgrims Cycle Challenge in April and she joined him on some of his training rides along with the family Amy 21 years and Louis 16 years.
"My first ride was about 10 – 15 miles, I thought this is really positive, I can do this. And with the support of the family I've decided to take on the Divas on Wheels 50-mile ride. I could have taken the 25 mile option but everyone is being so supportive and generous with my fundraising, I know I'm capable of completing the ride and enjoying it too."
Sarah is planning a Pilgrims Skydive, Canterbury ½ Marathon and the new Pilgrims Santas on the Run event in Herne Bay, and hopes to have legs left to complete the Cycle Challenge in April next year. Her family are her biggest fans; the children think she is amazing; they are both impressed and proud of their Mum.
We are really proud of Sarah for undertaking these amazing tasks throughout the year.
Deborah Kellond, Pilgrims Hospices Community Fundraising Manager said: "We are really proud of Sarah for undertaking these amazing tasks throughout the year. The Divas on Wheels ride is a perfect place to start her adventures, after all a picturesque Kent countryside ride followed by scrummy cakes, snacks, a chance to tame your helmet hair, relax with some yoga and even have body massage to ease away any aches and pains should make for a lovely day out."
Every £20 raised could pay for an hour of nursing care. We will follow her progress with interest and remain inspired by her determination."
Support this amazing Pilgrims nurse on her Just Giving page.
Get involved with a challenge to support Pilgrims Hospices, visit Events and Challenges  and discover how you can fundraise for your local hospice.
If you or someone you know is coping with a life limiting illness and you think you may benefit from Pilgrims support, talk to your GP or Healthcare Professional about the options or visit Pilgrims Hospices website Wellbeing and Social Programme.