Hospice shop joins high street retailers in Hythe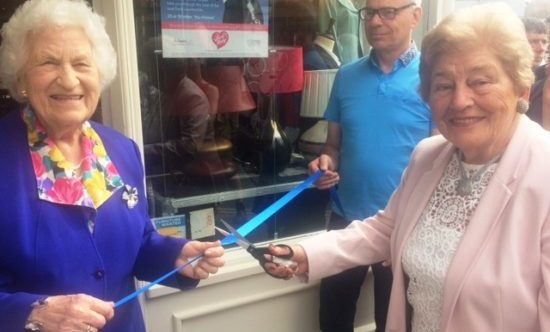 The latest edition to Pilgrims Hospices retail stores was opened in Hythe on Monday. Long standing volunteers Christine Pledger and Doreen Ashdown officially opened the shop for business.
Many staff, volunteers and local businesses supported with the preparations, from carpeting, decorating, designs and displaying the wonderful array of gifts and clothing donated by Pilgrims supporters.
Tim Stewart, Pilgrims Hospices Retail Manager said: "Hythe is an important town for Pilgrims to have a shop in. We've been looking for some time for a suitable site, and were so pleased when this space became available.
"It's a modern and stylish shop and we hope you'll enjoy visiting. We're selling clothes, ornaments, household and electrical goods and furniture – so there really is something for everyone."
Takings on the first day were around £2,000 – enough to cover the cost of 100 hours care from a Pilgrims nurse, whether in one of the charity's three Therapy Centres, on its wards or in the community.
A big thank you to everyone who has already supported our new Pilgrims Hospice shop in Hythe.
Added Tim: "A big thank you to everyone who has already supported our new Pilgrims Hospice shop in Hythe. You generously volunteer your time or purchase from our stores, which helps Pilgrims to continue to provide the vital care our patients and their families need throughout east Kent."
Get that extra feel good factor knowing all profits from your shopping go straight into providing your local hospice care. All Pilgrims shops are stocked with goods donated from the local community and staffed entirely by volunteers.
Your local hospice shops and our online eBay store can also convert your unwanted items into cash to fund our services.
Or donate saleable items, such as clothing, household goods, items of interest and anything else you think will raise money for Pilgrims Hospices!
Among our shops we have specialist outlets in Margate and Canterbury offering a great selection of vintage goods.  We also have dedicated bookshops in Margate, Dymchurch and Canterbury stocked with thousands of titles – so you're sure to find something to your liking.
Donations are also sold on our eBay store to reach shoppers worldwide.  If you have something you'd like us to sell online, please call 01227 640002 or email ebay@pilgrimsretail.org.
Unsure? Please ask your local hospice shop, or call 01227 640000.
If you are interested in becoming a Pilgrims Hospices volunteer there are many ways you can help. Every hour and every minute of volunteering for Pilgrims Hospices is hugely valued and goes a long way for the people needing our care.
Our volunteers play a part in every aspect of life in our hospices: they offer support, skills, kindness, care, raise money; they can be a friendly face helping in our shops and working on our receptions. By generously giving their time, volunteers support our staff as they work to provide the outstanding levels of care for which we are well known.
If reading about Pilgrims huge community of volunteers has inspired you to find out more about our current volunteering opportunities visiting volunteering or download a fundraising pack.